Over Breakfast is our ongoing series where Clinique Global Brand President Jane Lauder sits down with influencers around the world to talk trends, passion, and secrets to success.
Can one change make a difference? Can one person make a difference? On a recent trip to London, Jane Lauder woke up at 5:45 a.m. to work out with a woman whose life experience answers both of those questions with a resounding Yes: Olympic gold-winning cyclist Victoria Pendleton. What did they do? Go for a bike ride in Regents Park, of course.
As a professional cyclist, Victoria Pendleton challenged gender stereotypes by dominating competitions in a primarily male sport. To be more specific, she won three Olympic medals (two gold, one silver) across three different events and two Games for her native Great Britain. Plus, nine world titles, including a record six in the individual sprint. Today, Great Britain's cycling team is now 50:50 male to female ratio. We consider that a pretty big difference.
This fall, Clinique is celebrating Victoria Pendleton, along with five other inspiring women, as a Difference Maker and telling her empowering story to inspire women around the world to make a difference too, whether it be big or small.
Jane Lauder: We are so excited to celebrate you as a Difference Maker. You have had some amazing accomplishments. Has being physically strong empowered you to be mentally strong as well?
Victoria Pendleton: Feeling physically fit and strong definitely makes me feel more capable. When you train physically, you're building process, every day. It's confidence-building, which translates into other areas of your life: You know there are going to be set-backs, but you're able to deal with the tough bits. You're more prepared.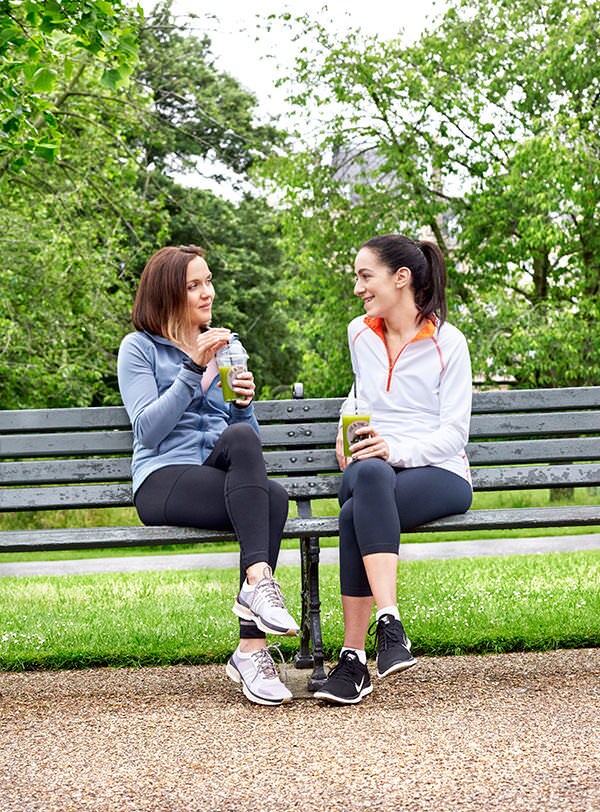 JL: One of your mentors is the psychiatrist and best-selling author, Steve Peters. How has he helped you get into the right mind-set for success?
VP: He helped me understand that in many ways, training mentally is as important as training physically. It directly led to my gold medals. We would talk about learning to start where you are and not where you want to be. A lot of people think, "Oh, I should be over there, doing this more impressive thing." But in fact, today, this is where I am. So, I'll start from here and give it my best shot.
JL: You recently talked about experiencing sexism in cycling. What advice would you give to women who face the same obstacles?
VP: I would encourage them to see it for what it is, take negative comments with a pinch of salt, and continue to dream big—those things should never hold you back. Besides, sometimes the most satisfying things in life are those you have to work hardest for.
JL: How did you find your confidence in sports to overcome the biases?
VP: I have always been treated as an equal to my twin brother Alex, and I think this was very significant to me in establishing a strong competitive instinct, and a belief in equality. Alex and I played sports together and I felt that anything he could do, I could do, too. I didn't see any barriers stopping me as a female.
"Sometimes the most satisfying things in life are those you have to work hardest for."
JL: Where do you like to exercise when you are in London?
VP: I'm someone who sticks to the parks. Just going for a run or anything, you feel like you're in the countryside. Regents Park is beautiful, but usually I'm around Hyde Park or Richmond Park on my bike.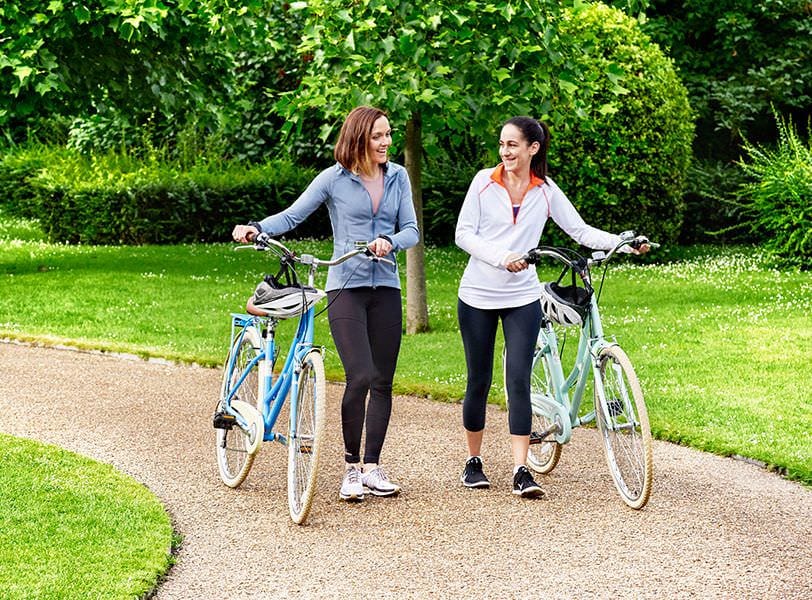 JL: I love that we're riding around on bikes you designed—this is so much fun. What inspired you to design a casual bike like this instead of a racing bike?
VP: I want to promote a more inclusive form of cycling to just get people on the bikes—bums on saddles—first timers. Hopefully, these bikes will lead people to say "Yes, that's for me. I can get on that, and it will be comfortable." And you can add a basket if you want!
JL: How do you fuel your body for a workout?
VP: Breakfast! Homemade muesli, usually on fruit with almond milk. That, and a cup of tea or coffee. Provide fuel to get started, then you can hit it a bit harder, with more intention.
JL: What is your ultimate fitness gear?
VP: I'm a fan of gear that's a bit different, with a nice palette. There's a company called Teeki that makes leggings out of recycled plastic bottles. They come in amazing designs—crazy-colorful, and really cool.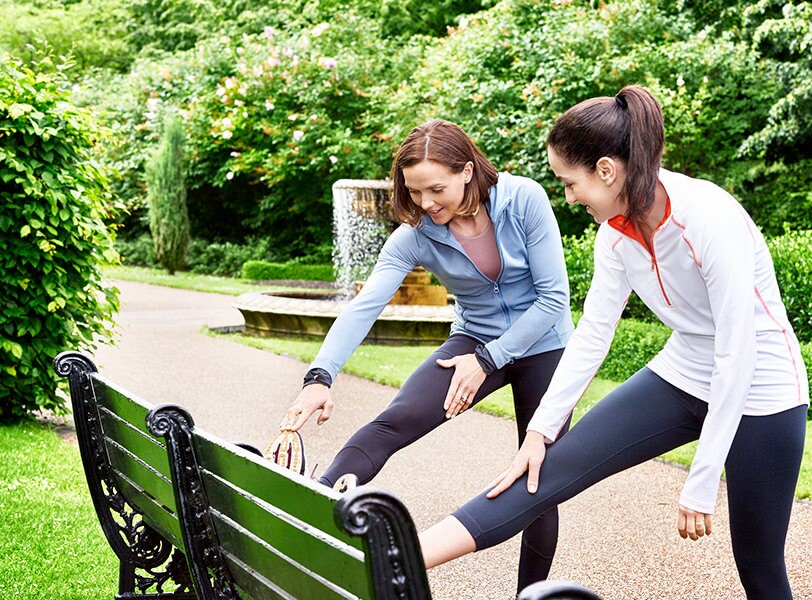 JL: You recently hosted Run or Dye, known as the world's most colorful 5k run. What tips would you give someone who has never raced before?
VP: You will get around. Even if you have to walk for a bit, try to run for some of it. Run for 20 minutes, 3 times a week, and you'll be more than capable within a few weeks. It's getting your body—your ankles, knees, and joints—ready. Don't ever be psyched out doing a 5K—anyone can do it, you really can!

JL: Tell us about your involvement with the Kiss It Better appeal and Great Ormond Street Hospital (GOSH)?
VP: My twin brother was diagnosed with leukemia when he was a kid, and the treatment he received at GOSH meant that he went into remission within 6 months. I feel very lucky and blessed to have had access to such an amazing hospital. They represent the best of the best in children's hospitals.
JL: Being a professional athlete, where does beauty come into your life? I know you've said you love products.
VP: Makeup enhances my looks and increases my confidence, so I enjoy wearing it. I've always seen it as an advantage to have the little lift it gives you. Yes, wearing makeup has always felt like a huge contrast to being an athlete—and I like that. It's something that changes the way I feel—especially blush!
JL: If you could change one thing in the world, what would it be?
VP: More women in charge! In sports, there are so few women in leadership and decision-making roles. I think with 50% of the population being women, who else would understand their different needs and requirements better?
Photos: Benjamin Madgwick | Run or Dye event photos: Rowe Studio - Helen Rowe Photography | Hair Stylist for Jane Lauder: Wendy Lauricourt | Makeup Artist for Jane Lauder: Claire Mulleady | Hair Stylist for Victoria Pendleton: Emma Shearman | Makeup Artist for Victoria Pendleton: Jade Carrington