"Fun, motivated and generous" is how Morgan Mitchell, our newest Australian brand ambassador, describes herself. A true embodiment of our motto, "Simple Routines, Remarkable Results", Morgan has cemented her status as a promising young athlete and she couldn't be a more fitting partner to Clinique. Keep reading and discover all the reasons why.
You can't start the main event without the right preparation.
At only 26 years old, Morgan Mitchell has competed in several national events, travelled to countries like Brazil, Italy and the Bahamas to represent Australia in international competitions and is now preparing for the 2021 Olympic Games in Tokyo.
Achieving so much at such a young age requires determination, discipline, and the right preparation - a lesson that Morgan has learned a long time ago and that she applies not only to her career but also to her skincare and makeup routine.
Staying on track day and night, with Clinique.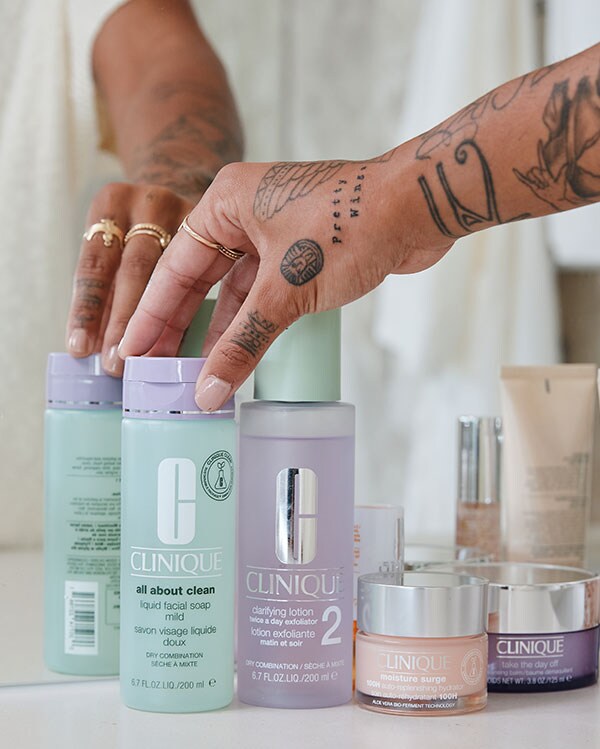 Morgan starts her day off with 3 steps: cleansing, exfoliating and moisturising. She uses All About Clean Liquid Facial Soap to gently cleanse, Clarifying Lotion 2 to sweep away dead skin and unclog pores, and Moisture Surge 100H Hydrator to keep skin moisturised all day long.
When it's all over, Morgan focuses on double cleansing and moisturising at night-time. The athlete removes her makeup with Take The Day Off Cleansing Balm, combats tired-looking eyes with Moisture Surge 96-Hour Eye Concentrate, and heads to bed with Moisture Surge Overnight Mask, to wake up with soft glowing skin - and do it all again.
Warming up for the main event.
"The anticipation, the excitement, the build-up to the main event never gets old - no matter which event that may be." Some days the warm-up includes stretches, other days, it includes Morgan's go-to Clinique makeup products.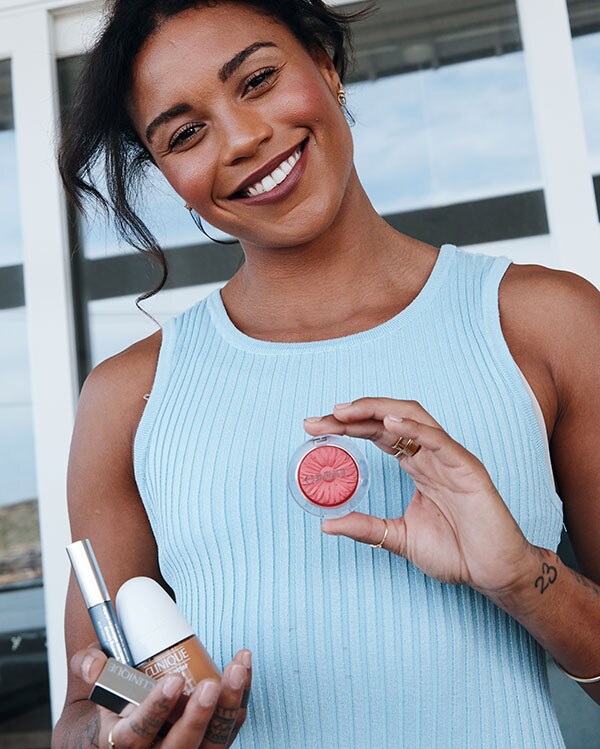 To add a touch of glam (and hydration) to her complexion, Morgan chooses the Even Better Clinical Serum Foundation SPF 20 in WN 98 Cream Caramel as her perfect base. One or two coats of the long-wearing Lash Power Mascara, a pop of colour with Cheek Pop Blush in Ginger Pop, and Morgan is ready to go.
The importance of acceptance in beauty.
Morgan believes inclusive beauty is all about "acceptance, being welcoming of everyone's style no matter their appearance or background" and catering "to everyone's needs" - and that is only one of the reasons why we're proud to have her as a brand ambassador.
Want to know more about Morgan's secrets to radiant, dewy and moisturised skin? Keep an eye on her Instagram and learn first-hand how she uses all her favourite Clinique products!