"I love inspiring others to live with confidence, and to do that, you must find time to take care of yourself."
As a woman who makes promoting self-love and authenticity an integral part of her everyday life, Maria Thattil understands the importance of having a self-care routine that you love and that makes you feel at your personal best. Maria's use of her favourite Clinique staples throughout her AM, PM, and makeup routine is the definition of our motto, "Simple Routines, Remarkable Results" and embodies a fuss-free way to look after your skin.
Find out what Maria's current morning skincare, nighttime skincare and makeup routine look like and what products she cannot live without!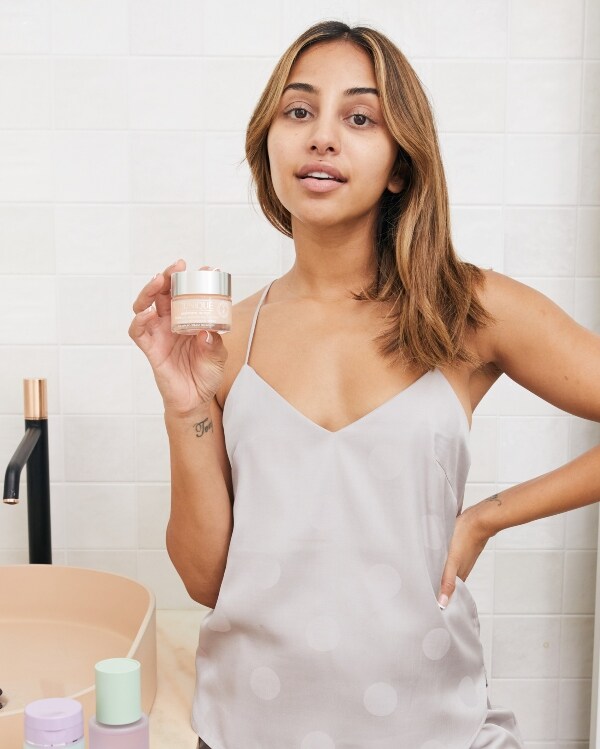 Morning skincare routine
Every morning, Maria likes to start her day off with a simple skincare routine and of course, some music! The first step in her self-care ritual is our All About Clean™ Liquid Facial Soap, which serves as a gentle cleanser to clean and refresh the skin first thing in the morning. The dermatologist-developed liquid soap also comes in several formulas which cater for all skin types from very dry, to dry combination, to oily combination skin.
Next, to exfoliate her freshly cleansed skin, Maria uses our Clarifying Lotion 2, which she uses on a cotton pad and wipes gently across her face. This step is crucial in unclogging pores and creating a radiant skin tone.
As a final step to seal in the hydration and keep the skin moisturised throughout the entire day, she applies her everyday staple, our Moisture Surge™ 100H Auto-Replenishing Hydrator, which is an oil-free gel-cream that locks in moisture and gives the skin a plump, radiant glow.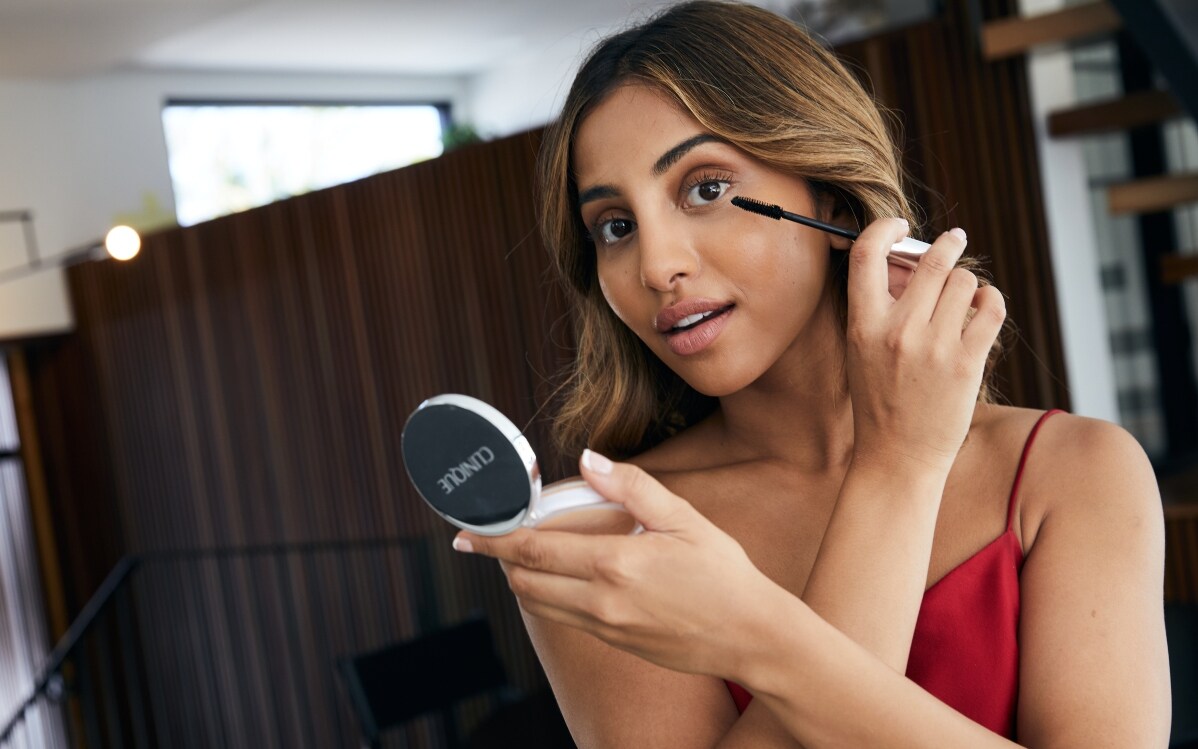 Makeup routine
When it comes to self-care beauty, Maria is a firm believer that it is all about "appreciating what makes you unique". She likes to keep a natural makeup routine that works to enhance her own features.
Her go-to for a flawless base is our Even Better Clinical™ Serum Foundation SPF 20, which not only provides even coverage on the skin but is also built with serum technology and includes various ingredients that contain many skincare benefits, like hyaluronic acid and vitamin C.
Next, she uses our Chubby Stick Sculpting Contour to define the contours of her face, applying it to the hollows of her cheeks and the sides of her forehead. This will give the illusion of a more chiselled face.
To bring some definition and drama to the eyes, Maria uses our High Impact Mascara. Using dark mascara is a simple and easy way to elongate the lashes and make them appear bolder and more dramatic instantly.
Finally, to finish off her routine, Maria opts for a classic red lip. Her go-to is our Clinique Pop™ Reds in the colour Red Hot. With simple face and eye makeup, a spicy red lipstick is always a fun way to liven up the entire look. In this line, we carry an extensive range of red lipsticks to ensure that everyone can find a shade that is matched to their skin tone and undertone. So why not give it a go?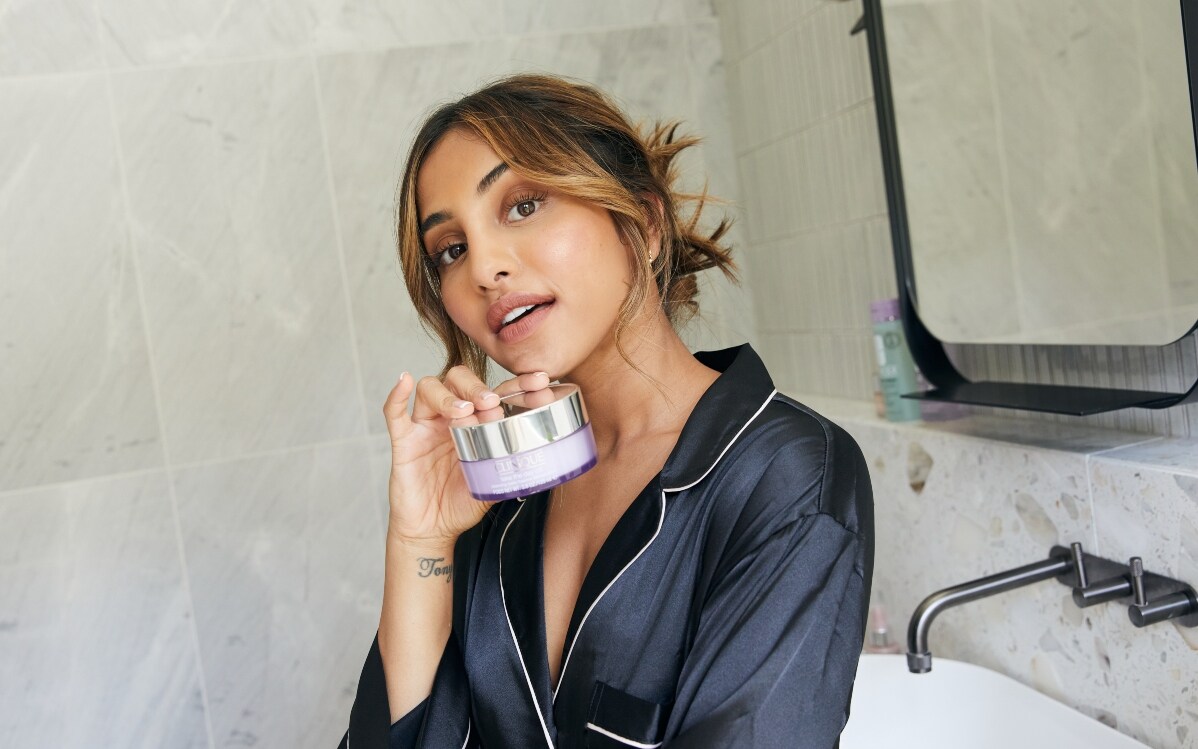 Evening Skincare Routine
We've arrived at Maria's final self-care ritual for the day: her nighttime routine.
A crucial part of how to look after your skin and keep it looking and feeling healthy is making sure you remove all the makeup and residue before you start the first step of your skincare routine. Maria's choice of makeup remover is the Take The Day Off Cleansing Balm. The solid balm transforms into a silky oil upon application and dissolves the makeup on your face immediately. Once you've given your face a rinse, your skin should feel clean and ready for the next step.
After removing her makeup, Maria revisits her trusty All About Clean™ Liquid Facial Soap to give her skin a good cleanse. Then as a final step for her skin, she uses the Moisture Surge™ Overnight Mask which gives her the hydration she needs to replenish her skin throughout the night.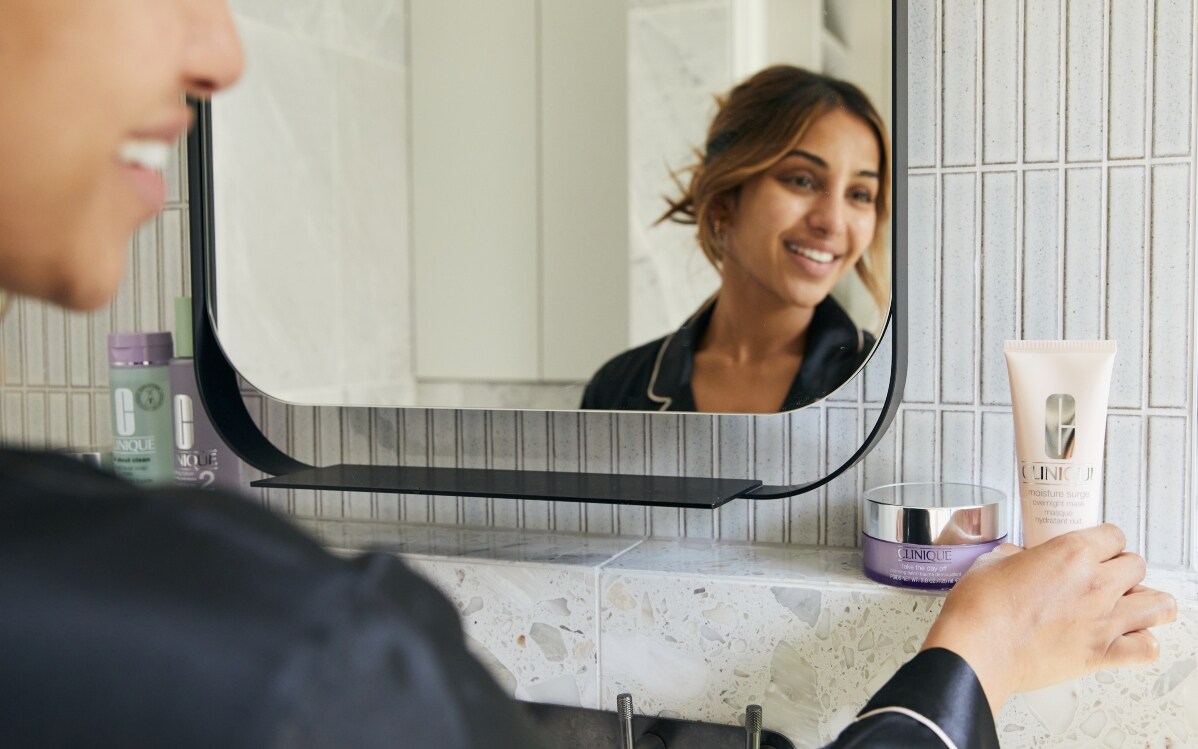 As a final, final step to her night skincare routine, and to make sure she isn't neglecting her lips, she throws on the Moisture Surge™ Lip Hydro-Plump Treatment to keep them plump and soft for the next day!
Now that you know the ins and outs of Maria's skincare and makeup routine, you can give it a go yourself and find your simple skincare staples too.