It takes a keen eye to pull together a party look when there's a lot going on—think bling, bold makeup, cocktail dresses, pumps, etc. The last thing you want to do is show up actually looking like a disco ball.
London-based jewelry designer Alona Shelemy—a master at mixing metals—says one thing to always consider is how your lipstick complements your jewelry. Don't think of them separately as you're getting dressed, but take a step back and look in the mirror to see if they are competing with each other or working together to create an overall, cohesive style. "I love picking tones of lipstick to either match my jewelry for an understated, tonal look or contrast for impact, but in a good way," she says.
Alona takes her inspiration for designing her namesake jewelry line, ByAlona, from the markets in Morocco, emerging trends, art, or design trends. "Each collection has so many parts of inspiration that combine to create one overall mood," she says. It's no surprise that she personally dabbles in as many different lipstick shades as possible. Here are a few of Alona's favorite lipstick and jewelry pairings fit for any fête.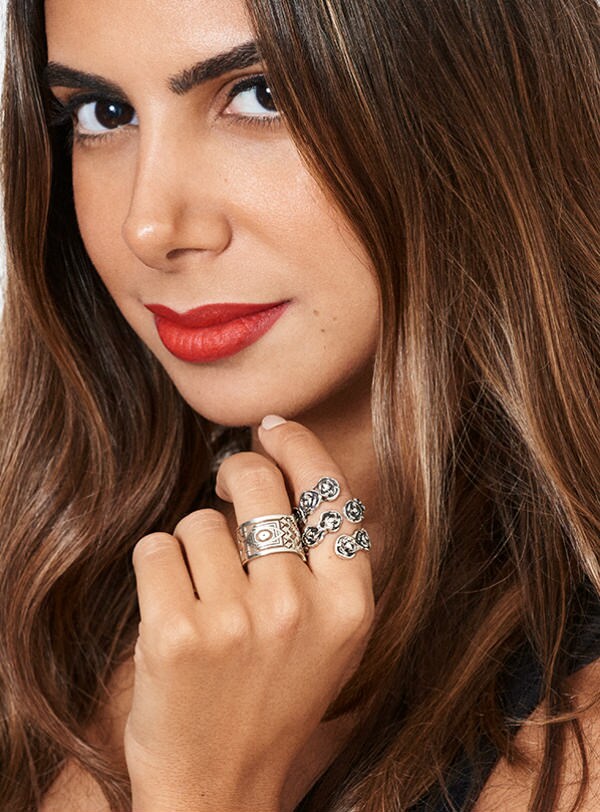 Red + Silver = Rocker Chic
"Silver acessories and red lipstick has a rock-and-roll vibe, which I love," Alona says. "It's bold and confident." Try Pop Matte Lip Colour + Primer in Ruby Pop with a stack of edgy silver rings. As for picking the perfect red lipstick: "I often Google Image celebrities that have the same skin tone as me to get a feel of which kind of red looks best," she admits. For more help on mastering the red lip, try these pro tips and tricks.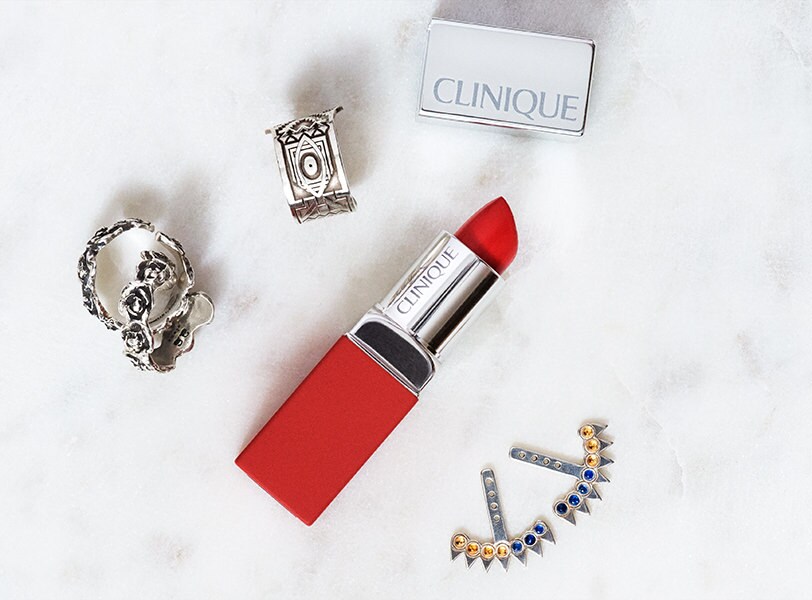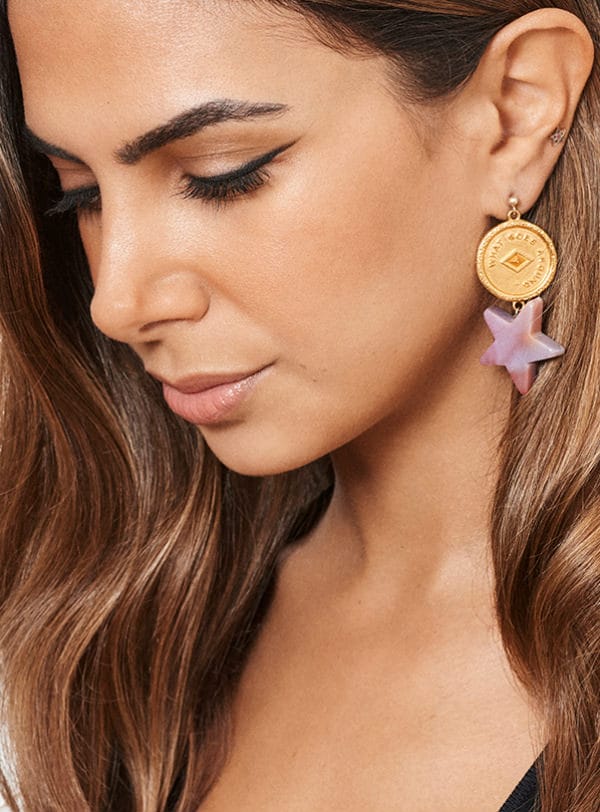 Nude + Gold = Classic Cool
Few things pair better than gold and an understated lip. "I love how nude and gold look together. I find them to be really complementary and warm," she says. "If I am wearing a few pieces of gold jewelry, I will go for a nude lip look with a bit of gloss so the overall look is soft and pretty, rather than over-the-top." Gold jewelry has a classic vibe, and likewise, a nude lip is a never-fail option. Try Pop Lacquer Lip Colour + Primer in Nude Pop. Once you've got the lip shade down, you can have fun with accessories. Choose a bold, statement gold earring that will have people doing double takes during your soirée.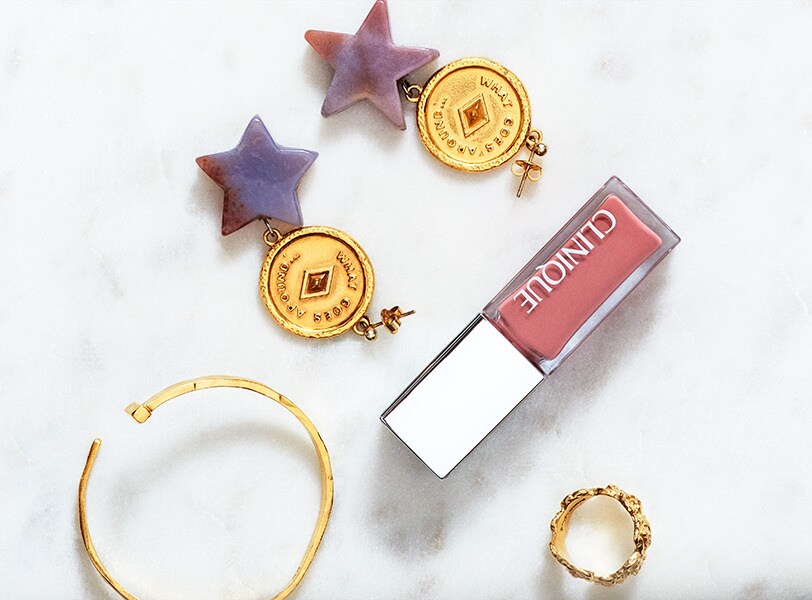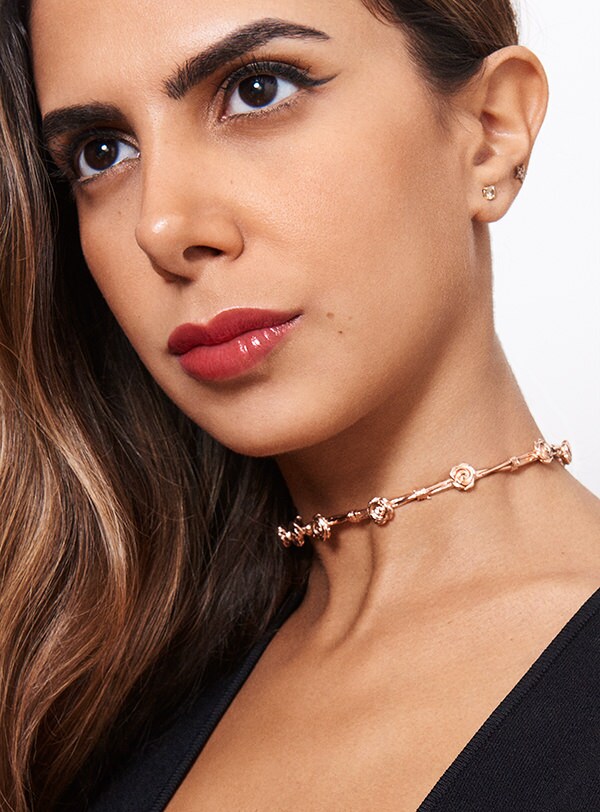 Pink + Rose Gold = Pretty Girly
If you're feeling more reserved, pick a subtle lip and accessories duo to reflect your mood. "Pink lips and rose gold complement each other in a delicate, yet detailed way," says Alona. You can see there has been effort put into the total look, but it's not overbearing. It's a great way to feel soft and feminine." To nail this alluring look, try Pop Oil Lip & Cheek Glow in Rose Glow.