Wondering how to prevent or combat dry winter skin? Maria Thattil, and Clinique's national education manager, Rene know exactly how you can winter-proof your skincare and makeup with 10 of their Clinique favourites. Read on as they share their easy winter skincare regimen:
Step 1: Clarifying Do-Over Peel
"When it's dry and cool, we're using the air conditioner or heating and the air is much drier, what happens is we're sitting with those dead skin cells on the surface of the skin," Rene explains, "so you want to exfoliate that to reveal a more luminous, radiant glow."
Our brand-new Clarifying Do-Over Peel is an excellent option for the first step in this winter skincare routine. Thanks to its exclusive 32% Micro-Acid+ Complex that features a 7-acid blend of AHAs, BHA and PHA, the exfoliant is able to reveal millions of fresher cells for skin that looks radiant and renewed even during winter.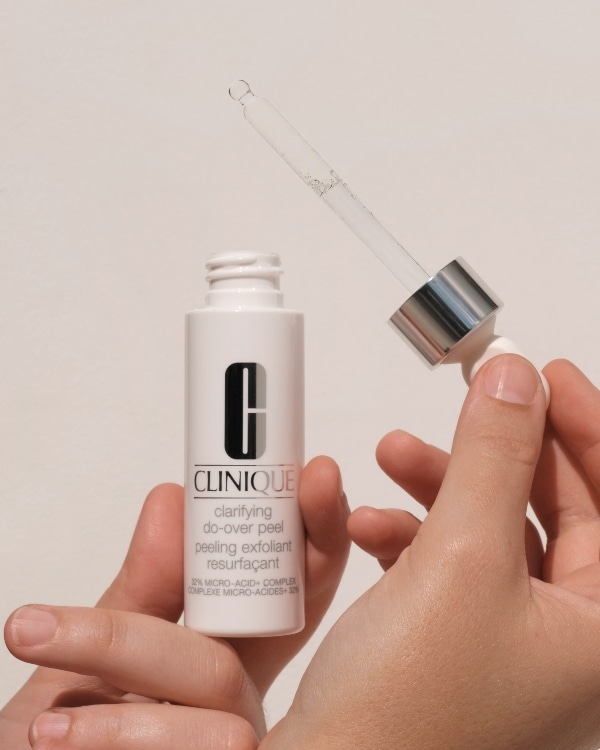 Step 2: Moisture Surge™ Eye 96-Hour Hydro-Filler Concentrate
After deep cleansing, Rene suggests focusing on the skin around the eyes, where the first signs of winter skin dryness appear, "because the skin is thinner and you have fewer oil glands."
She likes to use our Moisture Surge™ Eye 96-Hour Hydro-Filler Concentrate, and Maria couldn't agree more: "What I love about this is, I feel like the skin under my eyes is so thin and when it's cold and my skin has dried out, I can see all the little fine lines but my makeup just sits better whenever I prime the undereye area with this eye cream."
Step 3: Smart Clinical Repair™ Wrinkle Correcting Serum
Next up, it's time to target those fine lines and wrinkles that can sometimes become more apparent during the colder months, when your moisture barrier is weakened and your skin has a harder time retaining water.
To effectively tackle this skincare concern, Rene recommends the Smart Clinical Repair™ Wrinkle Correcting Serum because thanks to its peptide complex and hyaluronic acid, "it gives you that instant softness and smoothness on the skin and it tackles the finer lines," she says, "but it also goes to the deeper, more dynamic lines."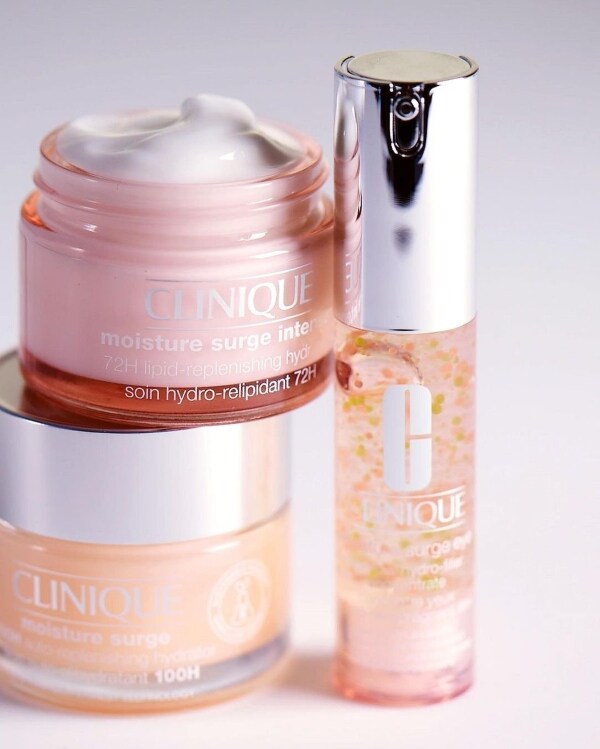 Step 4: Moisture Surge™ 100H Auto-Replenishing Hydrator
When it comes to the perfect moisturiser for winter (or any other time of the year), both Maria and Rene agree that there's one only right choice: our best-selling Moisture Surge™ 100H Auto-Replenishing Hydrator.
"Obviously, it's in the name, it's 100 hours of hydration, but when you see it, it's like this beautiful gel cream and you get that glass skin effect," Maria says, "It triggers and creates its own water source internally for your skin, so it's super hydrating but in a really sustainable way - you don't need to be putting this on all the time."
Plus, it creates "a really nice soft landing for your foundation to sit on," Rene adds, so your skin will be primed and prepped for any makeup you choose to apply.
Step 5: Moisture Surge™ Overnight Mask
Once your dermis is deeply moisturised, it's time to move on to another member of the Moisture Surge™ family: the overnight mask.
One of Rene's highlights when it comes to creating the perfect winter skin routine, the Moisture Surge™ Overnight Mask is "going to strengthen the moisture barrier and just prevent that nighttime moisture loss, so when you wake up and open your eyes, you're going to see beautiful plump skin."
Supercharged with beautiful ingredients like mango and Murumuru butter, the mask helps to support your moisture barrier and extend the benefits of your winter moisturiser.
Step 6: Even Better Clinical™ Serum Foundation
Moving on to winter makeup, Maria likes to start with the Even Better Clinical™ Serum Foundation.
"I love that you don't really need a lot of it and that it's buildable coverage," she says. Plus, "because of the hyaluronic acid in the foundation, it makes it look like it's just moisturised skin." – perfect for the ever-so-trendy no-makeup makeup look.
"You could have the dewiest look with this, it's almost like an all-coverage foundation. It's also waterproof so it stays on," Rene adds, "The colour stays true and you've got those goodies in there that you've spoken about, which makes this a treatment foundation."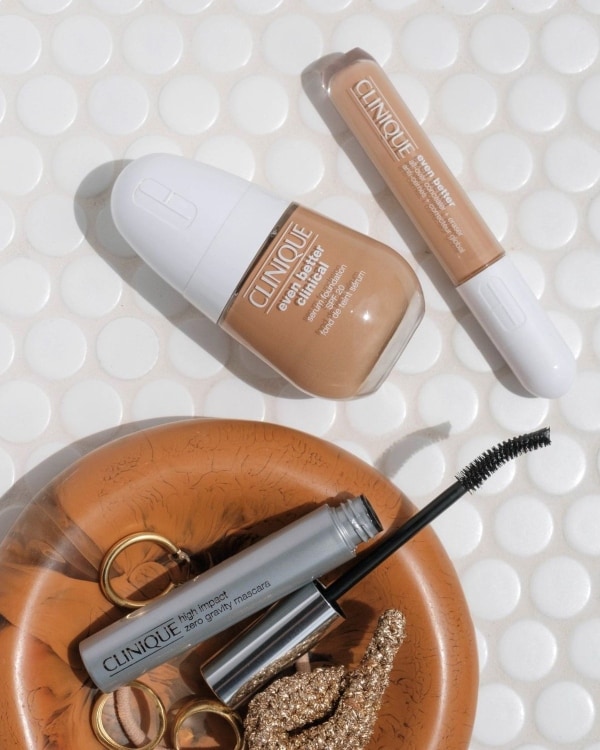 Step 7: Even Better™ All-Over Concealer + Eraser
If you've ever struggled with dry winter skin, you might have noticed that applying concealer becomes trickier. Due to the dryness, the product can end up looking flakey or settling into your fine lines, enhancing their appearance.
Choosing the right product is key to preventing this. You want to opt for a concealer that doesn't streak, is resistant to creasing and settling, and is supercharged with powerful ingredients like hyaluronic acid and vitamin C. in other words, you want to opt for Even Better™ All-Over Concealer + Eraser.
"What I love about this concealer is that it's non-acnegenic and non-comedogenic, so we know that whatever your skin situation is or whatever your skin goal is, you're in safe hands with these makeup products," Rene ensures.
Step 8: Chubby Stick Cheek Colour Balm
No makeup look is complete without a pop of colour on the cheeks and for the colder months, Rene recommends our Chubby Stick Cheek Colour Balm for one simple reason: "We're talking about winter-proofing our skin, so let's extend that hydrating makeup."
Available in three rosy tones and powered by hydrating vitamin E, this mistake-proof cheek colour has the creamy texture you'll need to steer clear of skin dryness in winter and create a healthy-looking glow in an instant.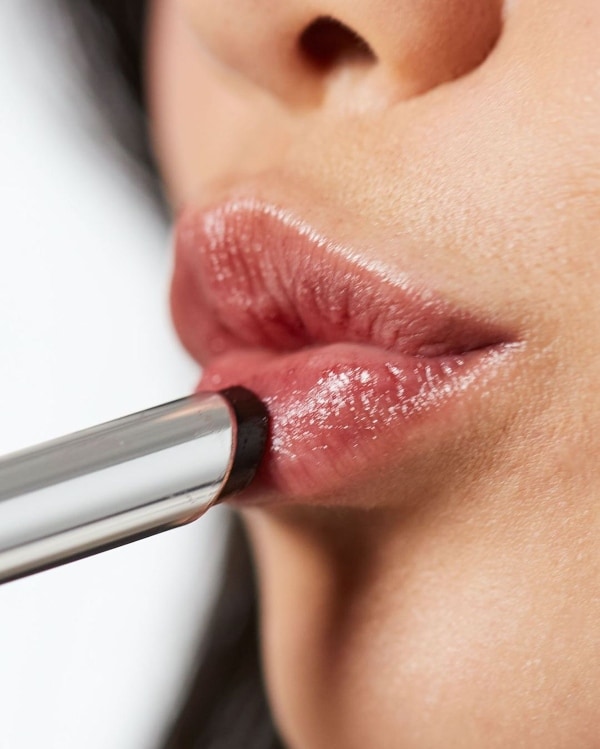 Step 9: Almost Lipstick in Black Honey
"Almost Lipstick is legitimately one of the coolest products because it works with everyone, but it looks different on everyone," Maria says, "so you can customise this for whatever your skin tone and whatever look you want to do."
"The pigment is really beautiful but it feels like it's a moisturising lip balm," which means it is able to soothe dry winter lips while flawlessly complementing any makeup look, from natural to glam and everything in between.
Step 10: High Impact Zero Gravity™ Mascara
The final step of Maria's winter makeup routine is mascara and she loves to use our High Impact Zero Gravity™ Mascara. "When I wear it, people always ask me if I've had a lash lift or if I've had them curled or tinted," she says and that's because this mascara instantly lifts and curls lashes by 50%  and lengthens them by 47%.
The curved brush makes application easier than ever and the weightless gel formula makes your eyes bigger and brighter. Non-flaking, smudge-resistant and providing a deep pigment that stays on for 24 hours, it's the perfect mascara to wear all year long.
With Maria and Rene's winter skin essentials, battling the colder temperatures and maintaining a gorgeous, radiant complexion is simple. Try their winter skincare and makeup routine for flawless results no matter how cold it is outside.