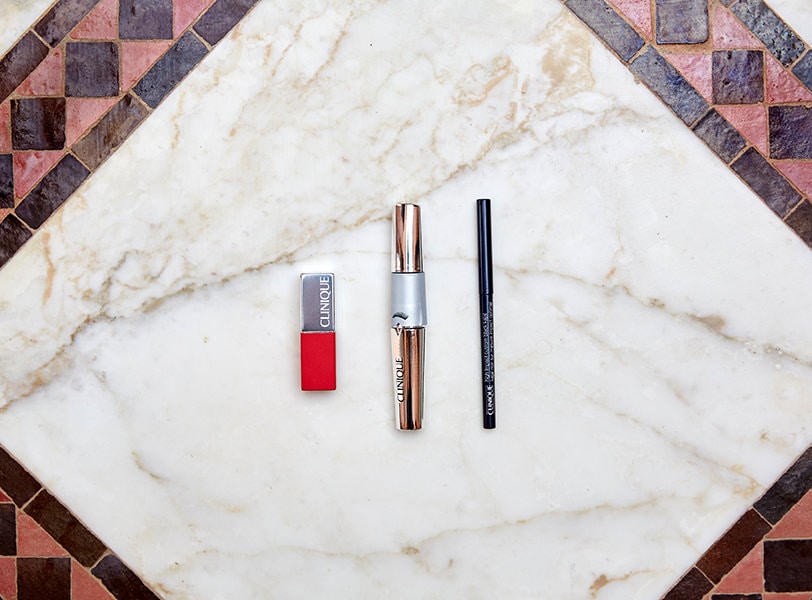 No stranger to the art of beauty, Clara did her own makeup before the big event, and let us glean some of her know-how while doing so. Despite conventional wisdom about choosing one focal point for the face, she had no reservations about playing up her eyes and lips, because, as she says, "It's all about balance." Clara's final look: a statement matte red lip and a sultry (but not too heavy) smoky eye—the perfect pairing for a night out in Marrakech. Here's how she created it: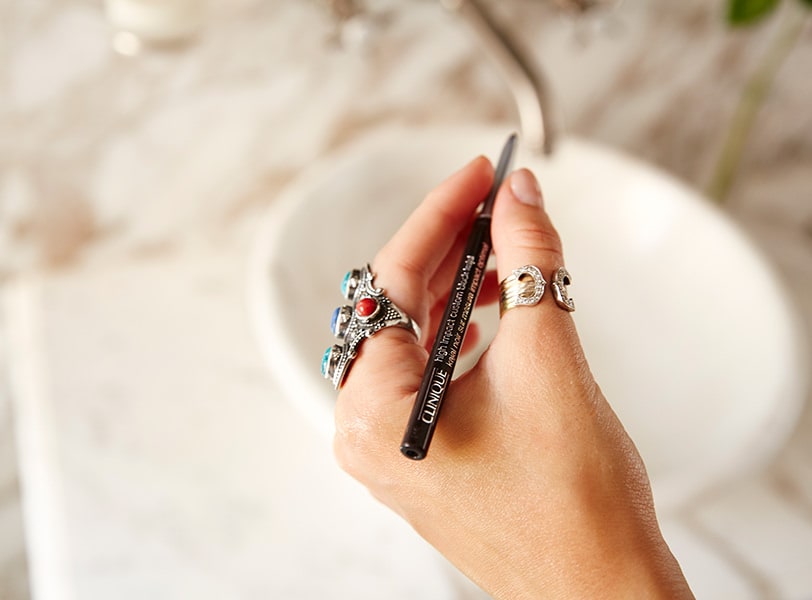 Before applying her makeup, Clara prepped her skin with Pep-Start Hydroblur Moisturizer, an oil-free moisturizer that instantly blurs imperfections and gives skin a natural matte finish. "I don't wear a lot of foundation, so Hydroblur is really great for me because it controls shine and makes your skin look more even and perfect," Clara told us. Next, she focused on her look with High Impact Custom Black Kajal in Blackened Brown, a bold, intense Kajal-inspired eyeliner that glides on smoothly, making it easy and effortless to use.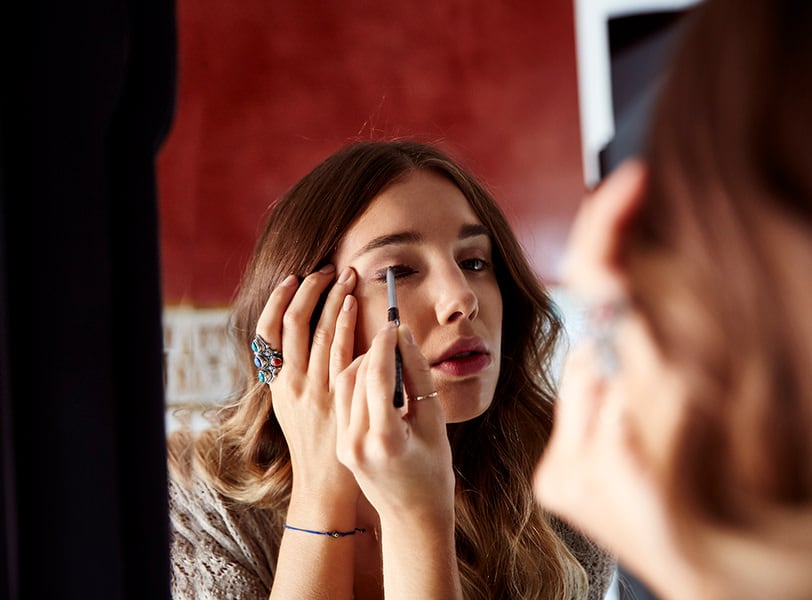 First, Clara lined her top lashes, drawing the liner a bit thicker in the center of the lid, then smudged it all out for a soft smoky effect. She traced a thinner and more precise line along her bottom lashes.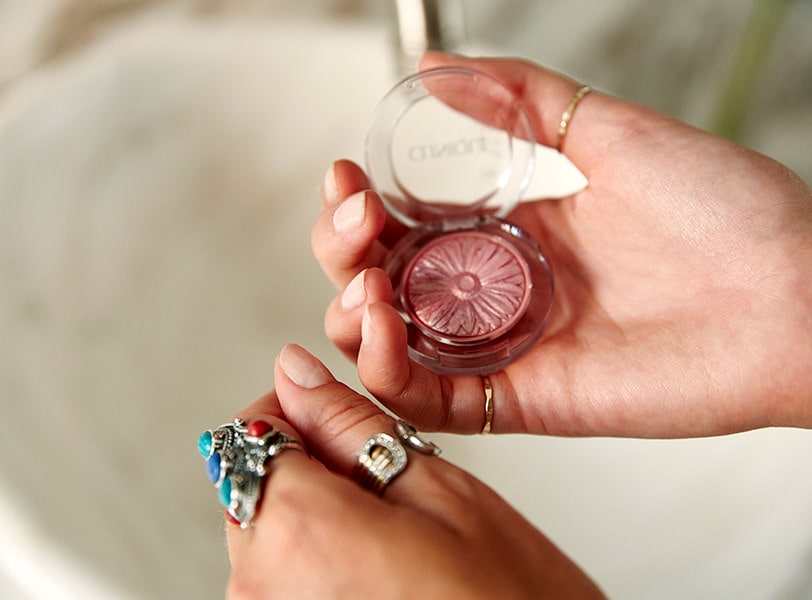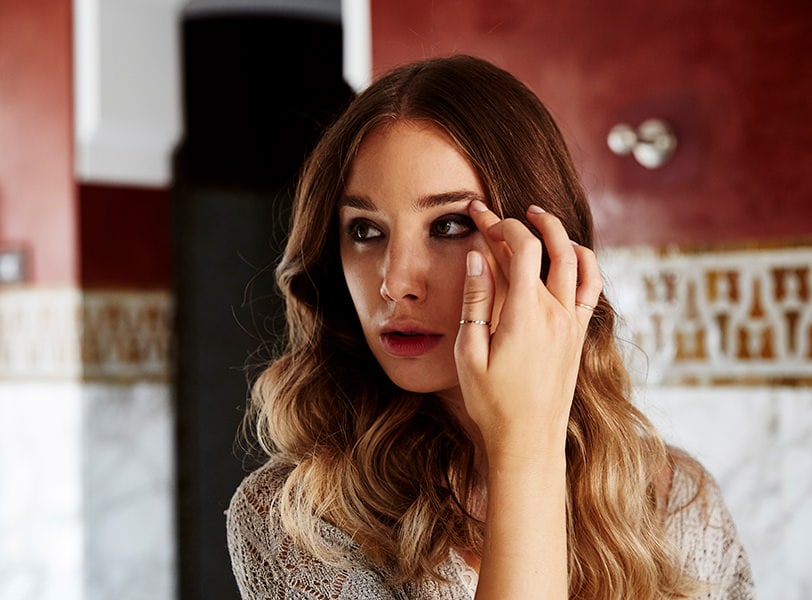 "I always intend to use makeup brushes, but often wind up using my fingers," says Clara, who used her fingertips to gently tap the shadow on her lids and brow bones.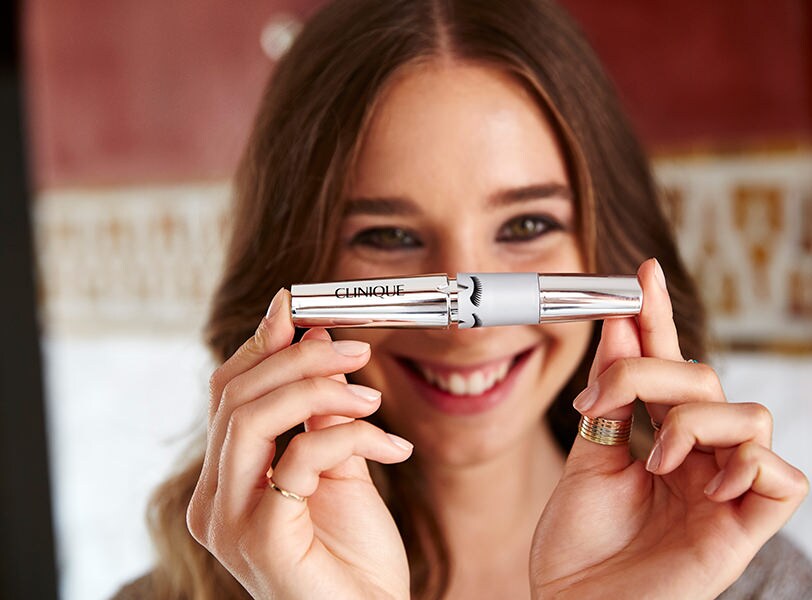 Last, she swept on Lash Power Flutter-to-Full Mascara, which lets you customize how much mascara you apply with the twist of its barrel to create various lash looks, from light and fluttery to full and high drama. For this night, Clara cranked it up full throttle. Her application technique was simple, but effective: "I use the brush horizontally to give volume, then do a few quick blinks to coat my lashes and add length."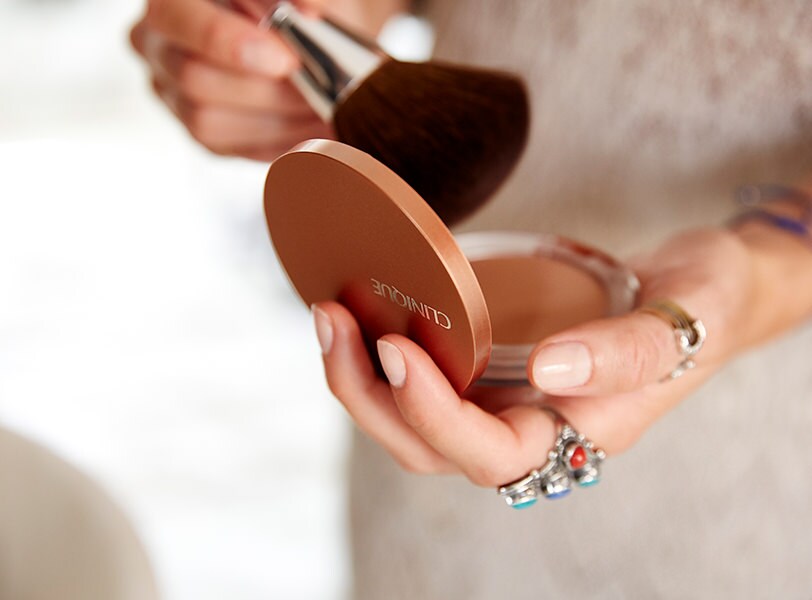 To warm up her complexion, Clara swept True Bronze Pressed Powder Bronzer, a light pressed powder that imparts a natural-looking glow onto cheeks, nose, chin and forehead.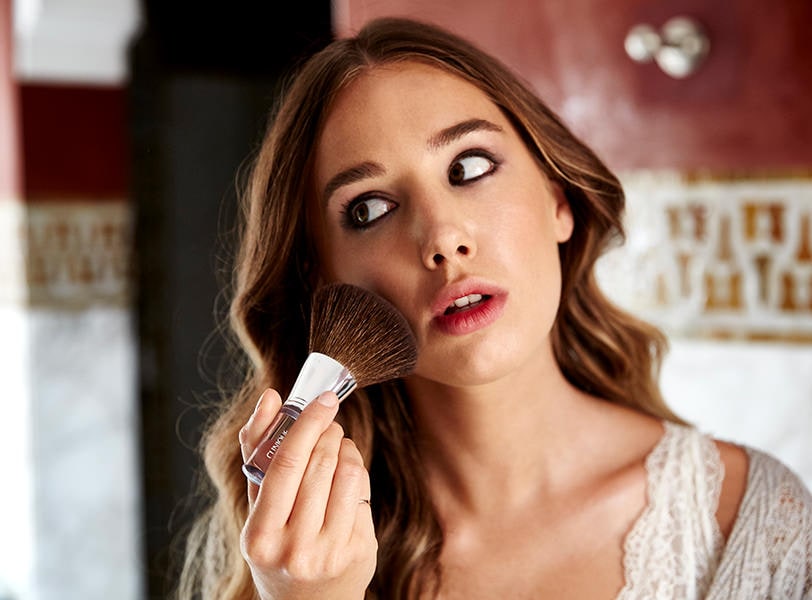 "I always go for powder bronzers with a gold tone, which create a natural-looking, sun-kissed radiance," she says.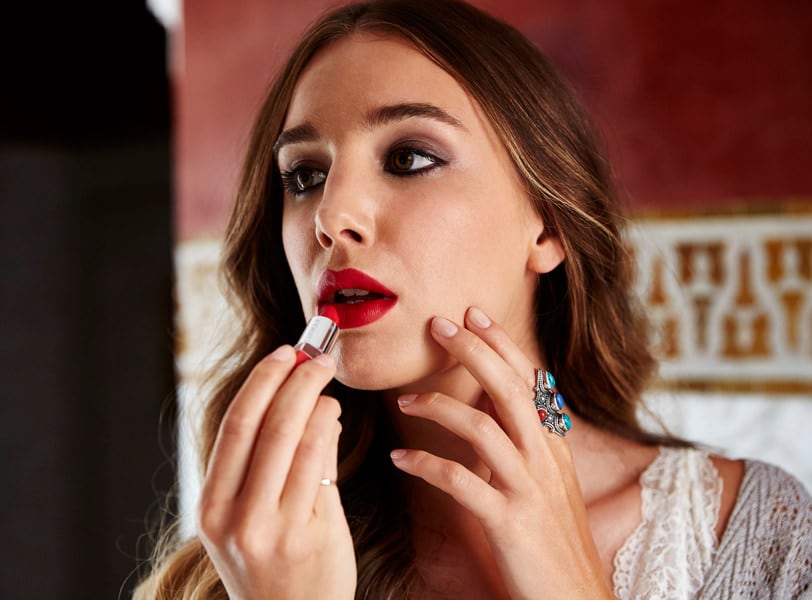 The finishing touch? Bright red Pop Matte Lip Colour + Primer in Ruby Pop. "Red lipstick is my thing. Everything from orange tones to burgundy shades. The new Pop Matte Lip Colours have a smooth and creamy effect, velvety touch and create a soft, refined look, 'tutto da baciare!'" she says. (Loose translation: All the better to kiss with. Wink, wink)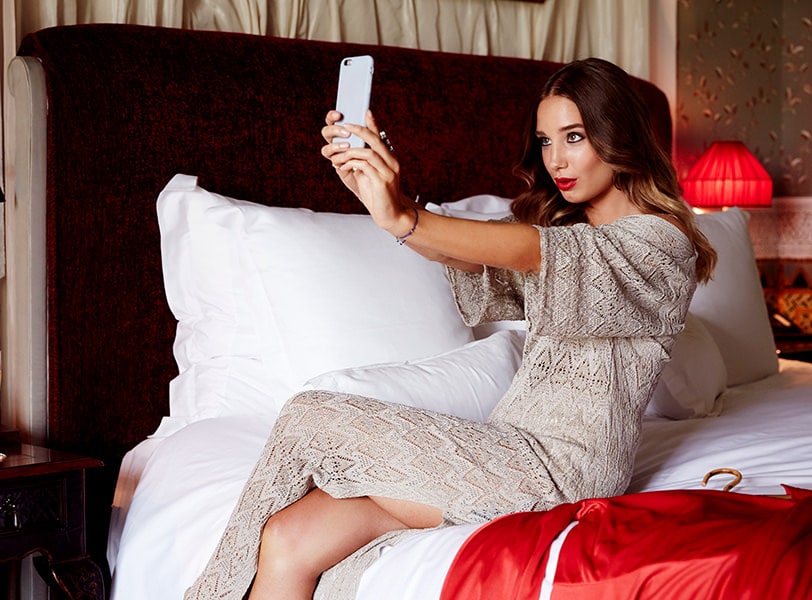 With her glam makeup finished and so fresh, Clara snapped a selfie.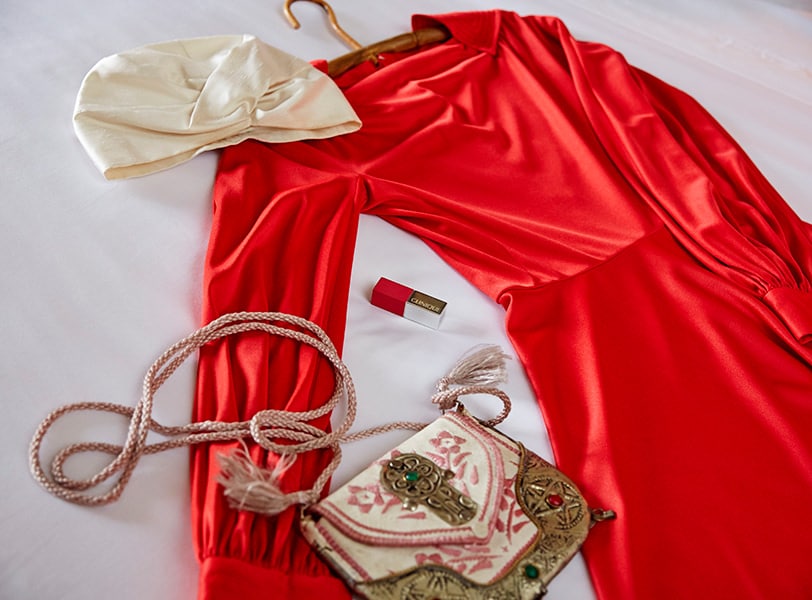 Now all she needed was to put on her red dress, which was as eye-catching as her Ruby Pop lipstick.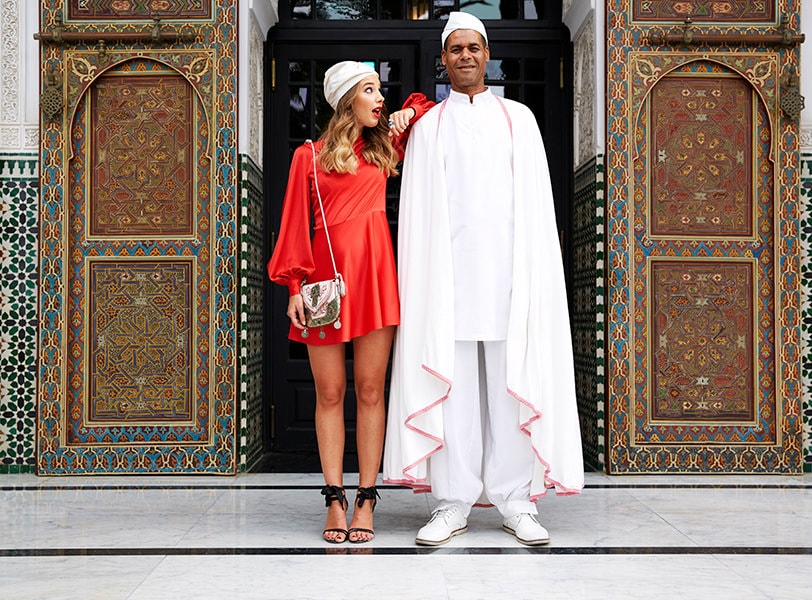 Ready to hit the night in Marrakech!
And when the evening ended, Clara made sure to remove all her makeup (a tip handed down from mom) with Take the Day Off Cleansing Balm, then applied Moisture Surge Extended Thirst Relief, which she calls her never-be-without skin care necessity. And with that, she drifted into an enchanted dream of pastel pink lights, chaotic Moroccan markets, shiny berber silver, damask fabrics and perfumed spices.
Editor: Rachel Hayes | Photographer: Rudy Geyser | Writer: Didi Gluck | Location: La Mamounia Marrakesh, Morocco