She has the Midas touch…and so much more. Not only does artist Lakwena Maciver transform cement grey cityscapes with strokes of metallic paint, she also brings a kaleidoscope of electric color, graphic patterns, and empowering statements to her public art. It's the ultimate urban makeover. Just like trying on a shiny new lipstick, her bright murals have the power to reenergize and uplift everyone who walks by. "I love the fact that anyone can see my paintings when they're on the street. It's not elitist," says Lakwena.
We flew to London, Lakwena's home base, to see firsthand how her creative mind works and where she goes to find inspiration. We started inside her workshop nestled in the bustling, eclectic Ridley Road Market, and then she took us on a colorful journey we'll never forget.
The Wink: Your art is colorful, empowering, and positive. When did you start painting?
Lakwena Maciver: I studied graphic design and illustration, but it was very open. I focused a lot on fine art and being very conceptual, meaning if the thought is there, do what you'd like with it. You can make a film. You could do a dance. I ended up making paintings. Big paintings.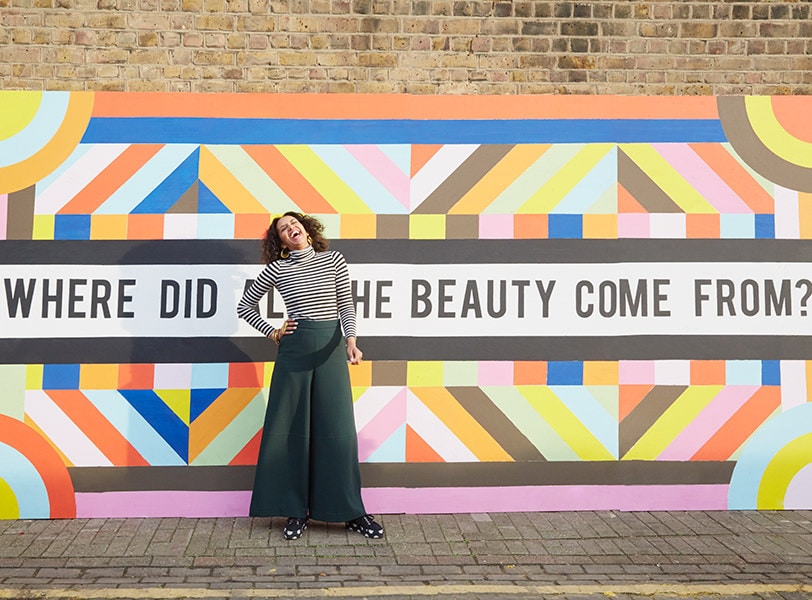 TW: Yes, indeed! Your murals are so energizing. We really love the one that says "Where did all the beauty come from?"
LM: I love it, too! I created it as part of a community project, and all the kids in the neighborhood helped me paint it. We had a blast. Making big paintings just kind of happened for me. Now I have murals in Las Vegas, Miami, Vienna, and a few more are planned for London this year. I love working on a big scale because of the impact it has. It feels free and natural to me. Instinctive.
TW: What inspires you?
LM: I'm very inspired by decoration. Aesthetically, I love the way people decorate themselves—their houses and the clothes they wear. I think it's really beautiful and very organic.
TW: Like your red lip. Do you prefer bold colors for lips?
LM: I do! If I am dressing up, I like to wear a strong lip. It completes an outfit.
TW: To your point about being inspired by adornment, your jewelry is beautiful.
LM: These pieces are all solid brass. One is an old threepence coin. Another one is from a local jeweler here in Hackney. Two are fair trade rings from Kenya. My sister gave me the bracelet. She travels a lot around Africa and brings things back for me. And my earrings are from Mali, made by the Fulani tribe.
TW: We loved your tour of Pelicans & Parrots. Why is it a favorite spot of yours?
LM: I love vintage. I'll go even if I don't have anything to buy, just to be inspired. I like things that are unique, and you find that here. I love the way the store is decorated. Also, I embrace the idea of not adding to loads of new clothes being made commercially, and instead reusing stuff that's beautifully made and well-crafted.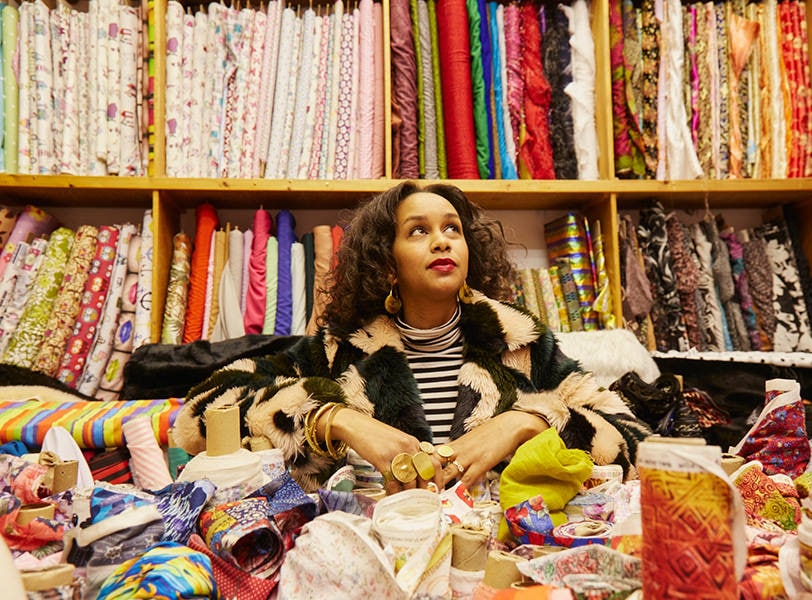 TW: You've also said that you go to fabric stores in the Ridley Road Market to get inspired. What's the attraction?
LM: Again, it's that thing with decoration. It's beautiful to see all of the colors, fabrics, and textures together. I'm not a fashion designer, but when I was younger, I was always like, "Oh, I'd love to do something with this," when I walked into fabric stores. I'm still like that! The fabric store next door to my studio, Dalston Mills Fabrics, is amazing. I walk in there, and I'm surrounded by beautiful things.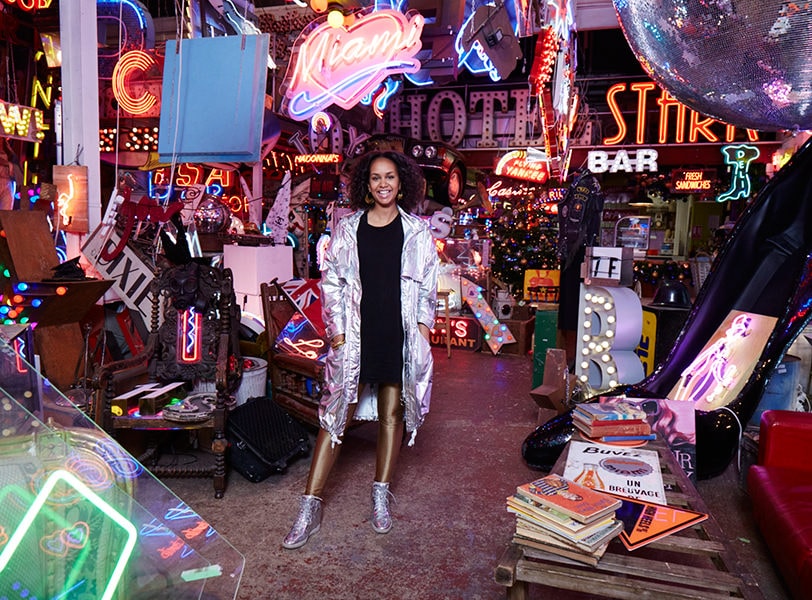 TW: God's Own Junkyard is also truly a feast for the eyes. How did you find it?
LM: I discovered it when I was creating a light book for an exhibition to support Refuge, a charity that shelters abused women. A lot of those electric signs started from topless bars, dancing girls, that kind of thing. I hate that stuff. Sometimes it's kind of glamorized and treated like a cute thing, but I think it's actually quite sinister and oppressive. But I'm also really inspired by them aesthetically, and I respect the craft of creating them. So I wanted to use them as a vehicle to say something positive. My lightbox for Refuge says, "She lights up the night." It's the idea that in the darkness, you can light up.