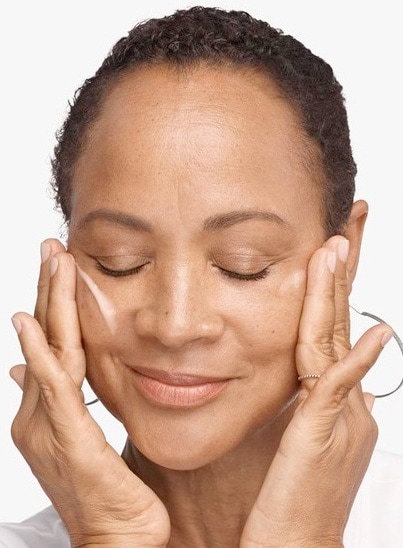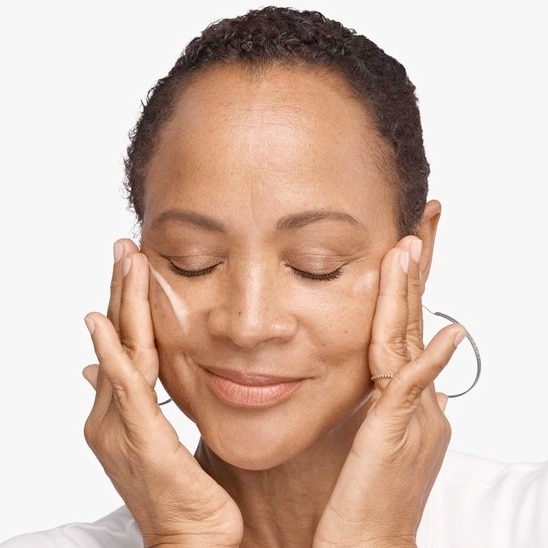 The Ultimate Beauty Routine for Mature Skin
Looking to adjust your beauty routine to target skin ageing signs? In today's guide, we reveal the best anti-ageing skincare to combat unwanted wrinkles and lines, as well as our go-to makeup for mature skin. Read on and learn how to get rid of wrinkles (or prevent them) with expert advice from our local Derm Pro, Dr Nina.


What is mature skin?
Mature skin is characterised by common ageing signs, such as wrinkles and lines and it naturally develops as we age.

"There's intrinsic ageing, from chronological age, and then there's extrinsic ageing, from the sun and environmental ageing", explains Dr Nina, "Skin gets rough, thinner and brown spots appear, and then tone becomes a bit irregular as we age".

Although skin ageing signs are inevitable, a targeted anti-ageing skincare routine can help slow down and minimise the appearance of fine lines and deep wrinkles alike.


What are the best anti-ageing ingredients?
A good anti-ageing product should always moisturise, plump and repair damaged skin - but what ingredients are most effective at doing so? At Clinique, we have a few favourites:

Hyaluronic Acid

First and foremost, the holy grail of hydration: hyaluronic acid. Once we reach our 20s, our dermis slows down hyaluronic acid production, so it becomes particularly important to look for products that help replenish your skin's reservoir and maintain a plump complexion.

This powerful humectant helps trap moisture into your skin, instantly (yet, temporarily) filling in creases and fine lines.

Vitamin C

"Vitamin C works on the surface of the skin to brighten the complexion, even the skin tone and retexturize the skin", says Dr Nina.

This active ingredient is a powerful antioxidant, meaning it protects the skin from free radicals that can lead to wrinkles. Plus, it promotes collagen production, helping your skin to remain firm and bouncy throughout the years.

Retinoids

Derived from vitamin A, retinoids are one of the most powerful anti-ageing ingredients you can find.

Using vitamin A for anti-ageing is always a good idea, as "vitamin A accelerates turnover rated skin cells which helps even out the skin texture and reduce the visibility of lines and wrinkles", explains Dr Nina.

However, if you want to take your anti-ageing skincare to the next level, opting for retinoids is the way to go, as these are able to work deeper in your dermis and achieve enhanced results.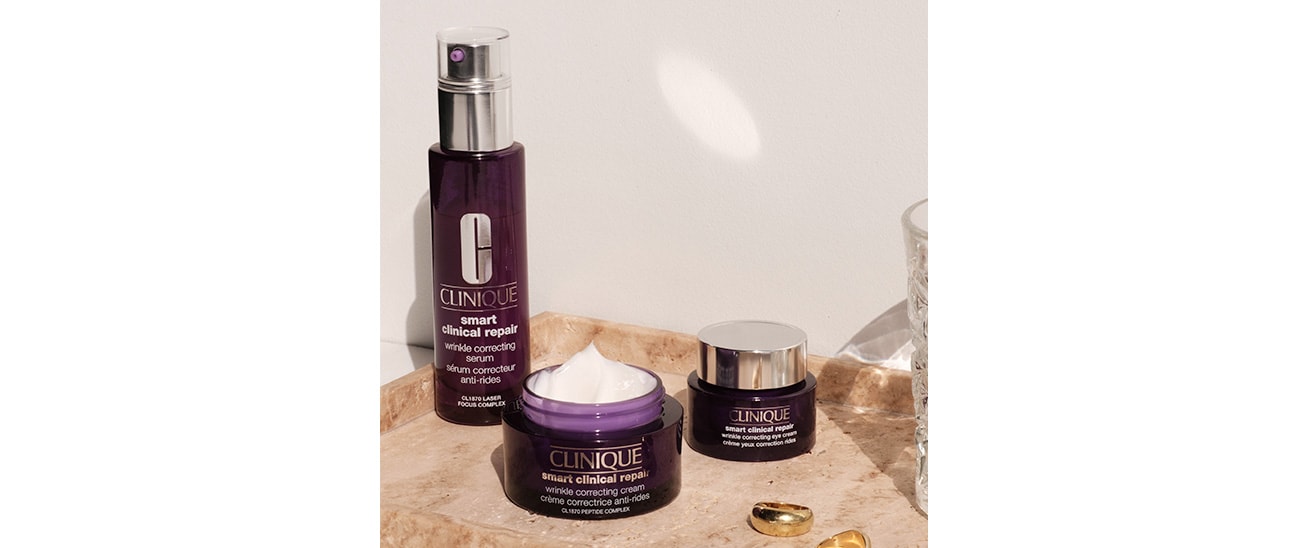 Skincare for mature skin: Our 4-step routine
Although wrinkles and lines may not become visible until later in life, the reality is that the skin ageing process typically starts in your mid 20s. Whether you're wondering how to get rid of wrinkles or looking to get ahead of the game by slowing them down, this 4-step anti-ageing routine will help you achieve your goals.
1. Cleanse your face
Washing your face daily will allow your skin to breathe and the product you apply afterwards to easily penetrate the dermis. Choose a gentle cleanser for mature skin, to avoid stripping your skin of moisture and natural oils.
Our suggestion: Fresh Pressed™ Renewing Powder Cleanser with Pure Vitamin C
Supercharged with Vitamin C and developed with a non-stripping formula, this water-activated powder cleanser purifies and awakens the skin, to achieve a refined texture and brighter look.
2. Apply an anti-ageing serum
Using a serum everyday allows you to focus on specific skincare concerns, by feeding the dermis with a concentrate of active ingredients. Your skin will easily absorb your anti-wrinkle serum, boosting the effects of any other anti-ageing products you apply.
Our suggestion: Smart Clinical Repair™ Wrinkle Correcting Serum
A brand new addition to our anti-ageing range, this peptide, retinoid and hyaluronic acid serum targets wrinkles from three fronts, by repairing, resurfacing, and replumping skin. Visible results in as little as 10 days!
3. Moisturise your skin
What's a skincare routine without a moisturiser? Finding the best anti-ageing cream for your skin will not only nourish it from AM to PM, but also strengthen its moisture barrier and gently tighten your skin.
If you want to target wrinkles on a specific area, choose your cream accordingly: an anti-ageing eye cream for crow's feet, a lip treatment for smile lines, and so on.
Our suggestion: Clinique Smart SPF15 Custom-Repair Moisturizer
Developed with an innovative formula, this is a must-have 2-in-1. Part resculpting cream, part revolumising moisturiser with hyaluronic acid, it instantly tightens and plumps your skin, targeting lines, dullness and uneven tone.
4. Apply SPF
UV rays are one of the top causes of damaged and ageing skin, so applying SPF on a daily basis is essential. From hyperpigmentation to saggy skin and lines, adding this protective layer on your skin will slow down the occurrence of many ageing signs.
Our suggestion: Superdefense City Block SPF 30 Daily Energy + Face Protector
Refreshing and gentle, this sunscreen for anti-ageing and fatigue provides 12 hours of radiance for youthful-looking skin. Not only does it protect your skin from a variety of external aggressors, but it also visibly corrects fine lines and wrinkles.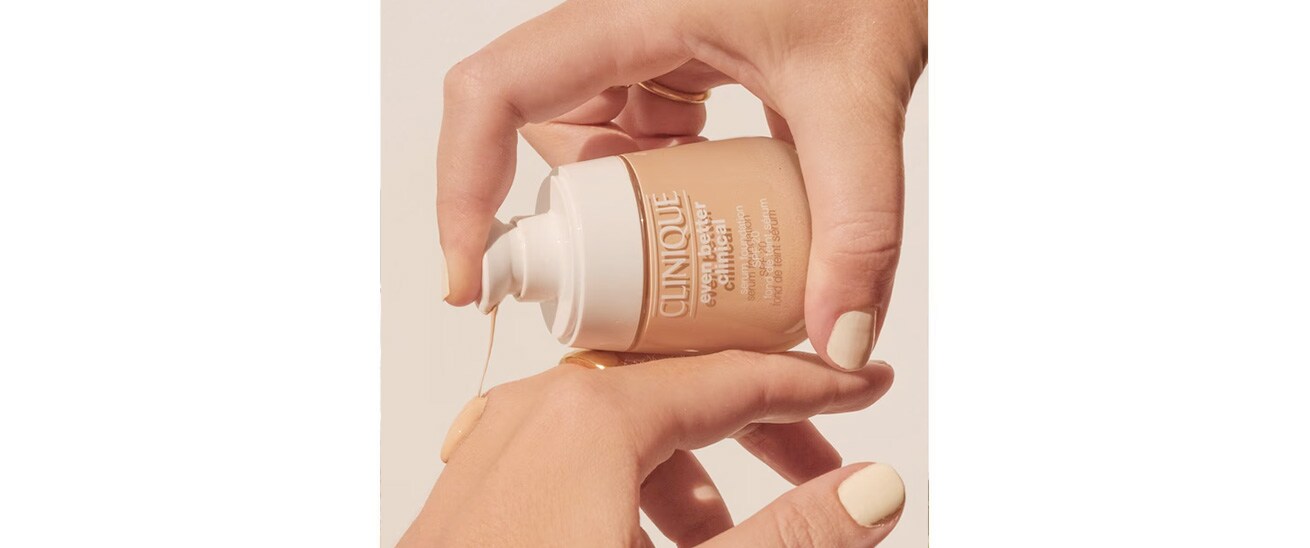 Makeup for mature skin: Our go-to products
Now that you have your anti-ageing skincare routine down, you can start thinking about makeup. Whether you like to keep it natural or prefer a full-on makeup look, it's important to opt for products that will enhance the results of your skincare routine, and not do the opposite.
A hydrating foundation: Even Better Clinical™ Serum Foundation SPF 20
When looking for the best foundation for mature skin, we recommend opting for a creamy formula that will create a luscious complexion, rather than emphasizing creases. Developed with hyaluronic acid, salicylic acid and vitamin C, this foundation leaves bare skin looking even better. Pair it with a primer for mature skin to prevent the product from settling into lines and wrinkles.
A creamy blush: Chubby Stick Cheek Colour Balm
Adding a pop of colour with a creamy blush will bring a natural glow back to your skin. Our Chubby Stick is the perfect choice: not only is it available in three gorgeous hues but it couldn't be easier to apply.
An eyeliner and lipstick combo: Cream Shaper for Eyes & Dramatically Different™ Lipstick Shaping Lip Colour
Perfect for any occasion, a smooth eye pencil and a creamy lipstick will add definition and colour to your makeup look. Our Cream Shaper is long-lasting and easy to use, while our Lip Colour is sculpting and hydrating. A foolproof makeup duo for mature skin!
No matter if you're in your 20s, 40s or 60s, great skin is something everyone can achieve. Follow our anti-ageing skincare routine and try our makeup for mature skin to maintain an ageless complexion year after year.