Serums have long been touted as the gold standard in every skincare regimen, a must-have for treating specific concerns such as dehydration, fine lines, pigmentation, darks spots and more. Packed with highly concentrated, targeted ingredients, they have the ability to penetrate deep into the skin's layers and in turn, deliver serious results. It's one skincare product you definitely don't want to skip… but imagine if you could reap those skin-loving rewards, just by applying your everyday base? That's the beauty of serum foundations.
As the ultimate hybrid product, that is, products that provide both skincare and cosmetic benefits, serum foundations still do their thing, concealing imperfections and enhancing your complexion, yet also contain a host of benefits to boot. In recent times, serum foundations have become even more sophisticated and cutting-edge, with formulas mimicking traditional foundations that provide a flawless coverage and simultaneously treat a multitude of concerns. Think of them as like a one-stop shop, and none more so than Clinique's NEW Even Better Clinical Serum Foundation SPF20.
With an extensive line-up of 24 shades, Clinique's Even Better Clinical Serum Foundation SPF20 contains not one but three serum technologies in a sustainable egg-shaped glass bottle. But the good news doesn't stop there, so we've rounded up every reason why you need to add this foundation to your beauty regimen, pronto.
THE INNOVATIVE SERUM FOUNDATION FORMULA
Unlike the majority of serum foundations that are designed to target one skin gripe, this foundation formula uses a multi-tiered approach to minimise the appearance of some of the most common skin concerns; think dark spots, evening out of the skin tone and also overall brightening of the complexion.
THE INGREDIENTS
It contains a cocktail of good-for-your-skin-ingredients to ensure that your demands are met. To start, a combination of three vitamin C-derivatives that are on hand to halt hyperpigmentation in its tracks whilst also boosting skin radiance. Meanwhile, hard-working hydrators keep the complexion looking plump, caffeine is on hand for a boost of energy, and nourishing and soothing vitamin E ups hydration. In addition, exfoliating salicylic acid gets to work sloughing off dead skin cells to prevent clogged pores and in turn, promotes further cell growth for a fresh, younger-looking complexion.
Last but certainly not least, one of the hero ingredients is a botanically derived inhibitor called UP302. Without getting too technical, this clever patented ingredient works to supress melanin production in areas where there is hyperpigmentation in the skin. This brightening molecule helps to even out the skin tone and improve the appearance of dark spots, age spots and acne scars.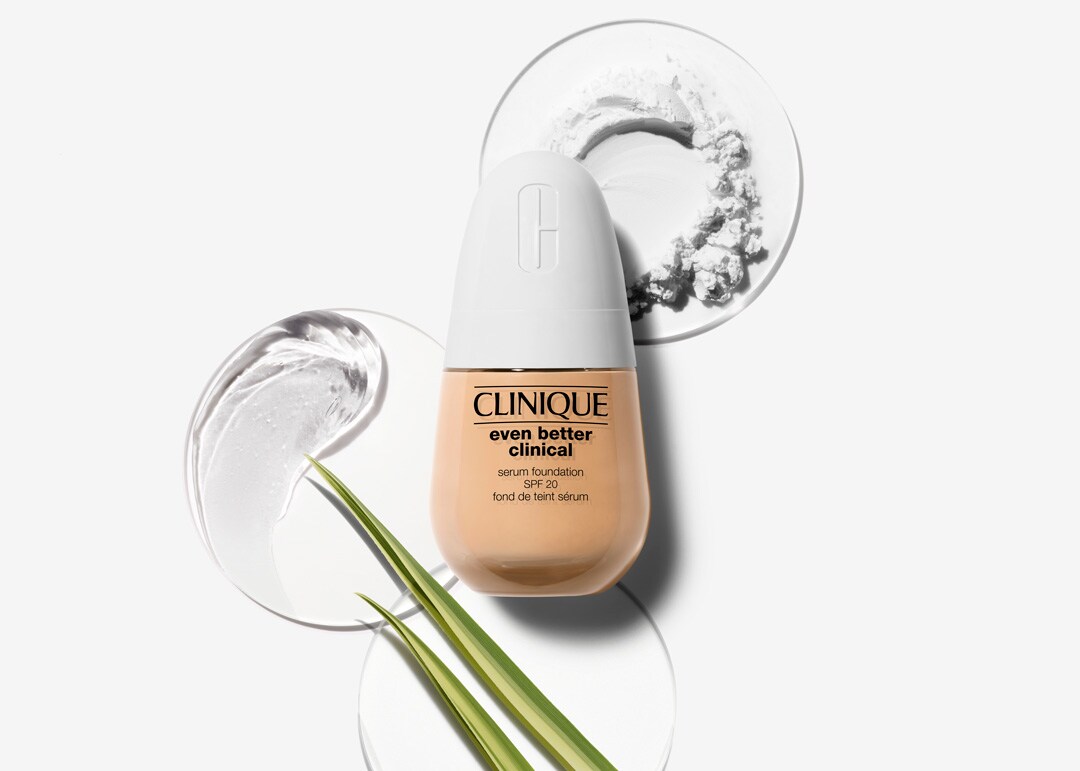 THE FINISH
With a smooth and long-wearing foundation formula – we're talking 24 hours here – Clinique's NEW Even Better Clinical Serum Foundation SPF20 blends dreamily into the skin, providing a glowy, hydrated and buildable coverage that won't crease, cake or settle into pesky fine lines. This hydrating serum foundation is also perfect for the warmer weather since it's sweat- and humidity-proof, oil-free and contains a blend of physical sunscreens and a broad-spectrum sun protection of SPF20.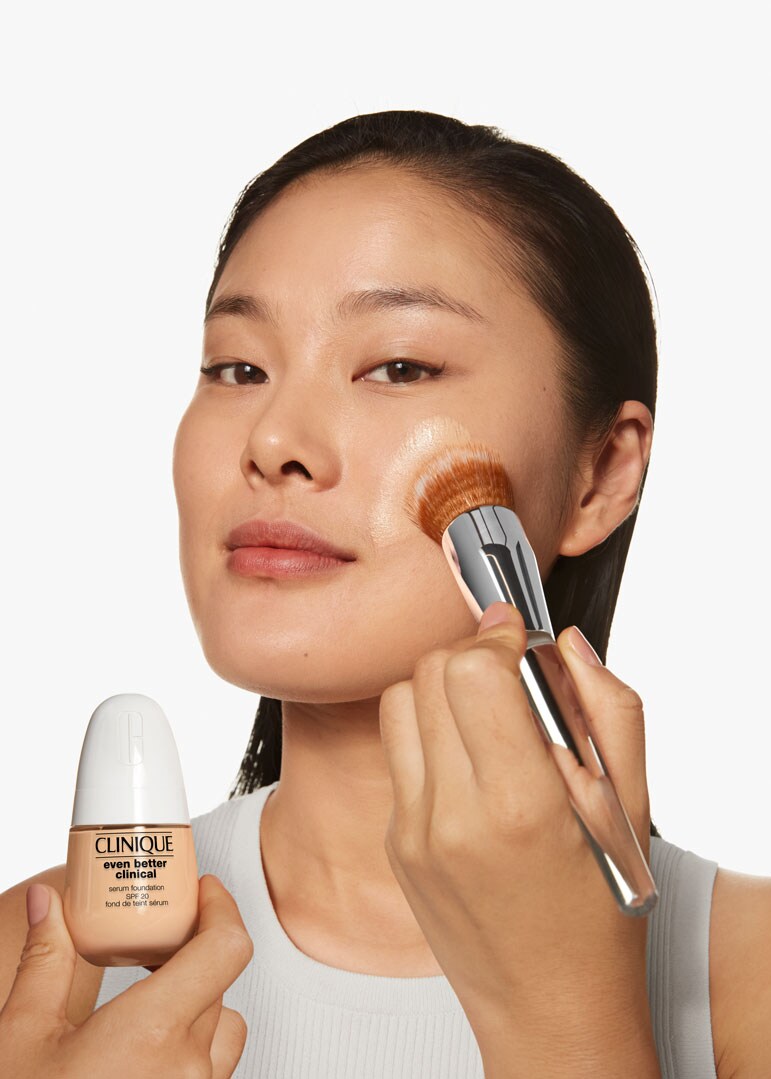 THE BOTTLE
The chic egg-shaped bottle is comprised of sustainable glass and is fully recyclable – just ensure that you remove the pump first.
THE SERUM FOUNDATION SHADES
Our hydrating serum foundation is available in a diverse range of shades, ranging from very fair to moderately fair, medium and deep.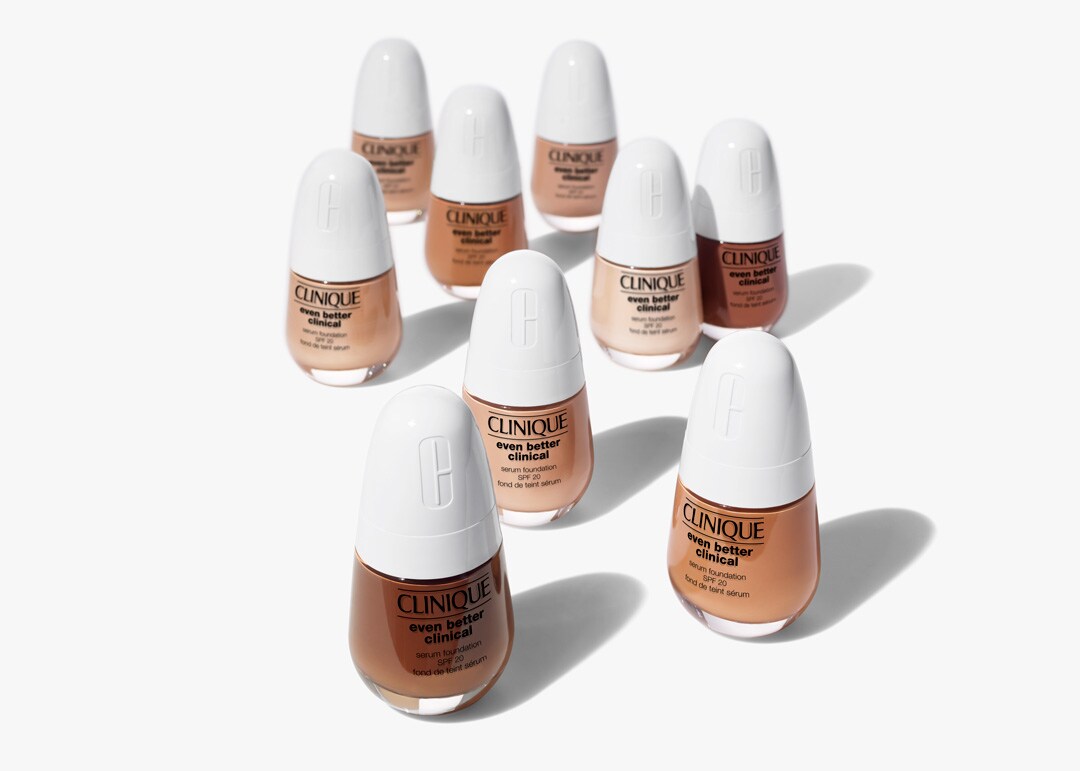 Words by: Hayley D'Onofrio