You know summer is around the corner when your walk to work becomes the highlight of your day. Nothing quite beats that killer combo of feeling the warmth of the sun and not having to pile on layers upon layers. We all know that wearing sunscreen is important year round, but as we head into sunshine season, it is particularly top of mind.
And we're not just talking about slathering on SPF before hitting the beach. Daily incidental exposure to UV rays—like the sun you soak up on that morning walk—can add up to sun damage. No one understands this better than Korean skin care blogger and entrepreneur Alicia Yoon. The Seoul-born beauty turned New Yorker makes it her job, literally, to track skin care trends from her native country, which she writes about on her blog, Peach & Lily. And, when you've been working on perfecting your pores since the age of three (true fact: growing up, Alicia had a family facialist), you really know what works and what doesn't. We caught up with Alicia in her peach-colored office, located in New York City's Koreatown, to hear about her journey to becoming a certified skin care aesthetician in the U.S., and her latest must-haves for protecting her skin.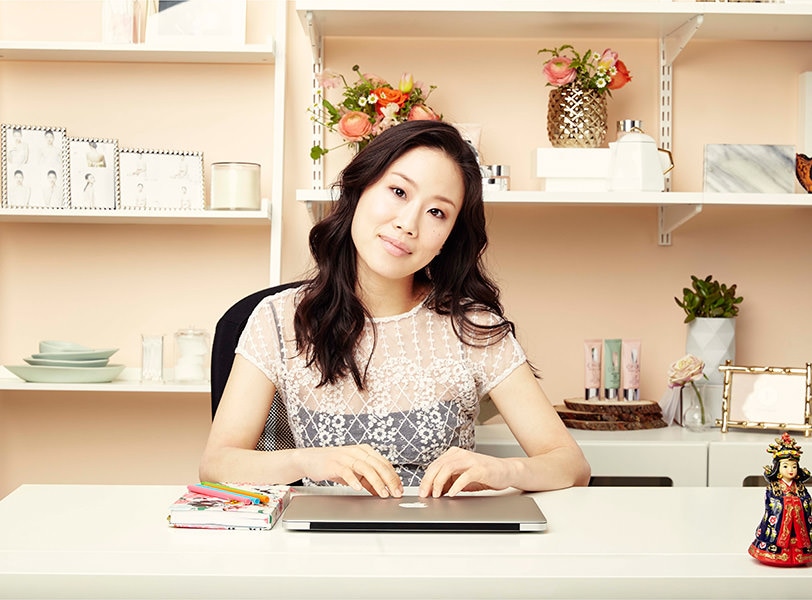 The Wink: What is the biggest misconception about sun protection?
Alicia Yoon: People think that sunscreen ingredients are enough, but they usually aren't. You really need to pair them with antioxidants. That is something I'm really big on. I don't use products with retinol. I don't do injections or fillers. But I do use a lot of antioxidants to fight off free radicals. Also, I'm not outdoors too much, but even indoors, if there are windows, I'm still careful about SPF'ing all the time, either with a lightweight moisturizer or a cushion compact with sunscreen.
TW: When you're outside more often, how do you amp up your protection?
AY: I wear wide-brimmed hats when I am on vacation! I also remember to reapply throughout the day. When I'm reapplying a lot, I'll layer a mineral powder over a cushion compact. I like physical sunscreens a bit better. A lot of Korean formulas are a mix of physical and chemical, but I have very sensitive skin, so I find that, for me, the mineral-based ones work best.
TW: Why do you like cushion compact foundations so much?
AY: I love them because they provide great coverage and you can keep layering them, over and over, and you won't look cakey. You get more SPF without it starting to look bad. They also give you this beautiful glow.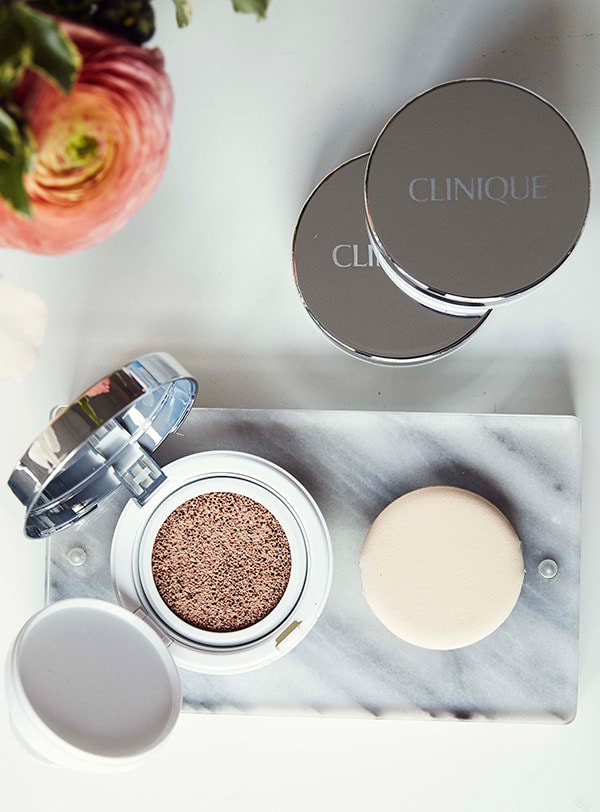 TW: We get it. The new Clinique Super City Block BB Cushion Compact SPF 50 has a beautiful finish and an all-physical sunscreen with antioxidants. It hits all of your requirements.
AY: Antioxidants are like vitamins for your skin. Your skin needs to be nourished to function properly, especially when it is constantly exposed to UV rays and environmental stressors.
TW: How old were you when you realized that sunscreen was important?
AY: Probably around three.
TW: Seriously?
AY: I remember coming back from summer break and being the only kid who didn't have tan lines. My mom always stressed the need to wear a lot of sunscreen. She reminded me that "You have one skin in this life and it all adds up." I think because I also have eczema and my skin barrier is weaker, it was an important lesson to learn early on.
"You have one skin in this life and it all adds up."
TW: Growing up in Korea, was taking care of your skin instilled in the culture?
AY: Flawless skin was always the healthy ideal that you aspired toward. From high school onward, I was adamant about that. We had a family facialist growing up, and she would always tell me "You have very weak and fragile skin. You're going to start sagging early, so you have to make sure to protect yourself."
TW: Wait. You had a family facialist?
AY: Yes! It's not the most common thing in Korea, but it's not uncommon either.
TW: Is that how you decided to become an aesthetician?
AY: I went to aesthetician school as a senior in high school. It was there that I learned about the very specific, scientific reasons why the sun is bad for you. Knowing that, I became even more careful.
TW: Do you think that the importance of sun protection is taught enough, especially to younger children, in the U.S.?
AY: I'm so curious to see how skin care is taught formally in the U.S., so I'm actually back in aesthetician school right now in New York. I'll be licensed in a few months.
TW: How exciting! What else do you have planned for the summer?
AY: I'll be taking some trips to Los Angeles and Kauai, where my fiancé's parents live. Hopefully we'll also be able to plan a small getaway before our wedding in New York this October.
TW: No doubt, you will be the epitome of a glowing bride!
Photos: Erik Tanner | Words: Katie Livanos