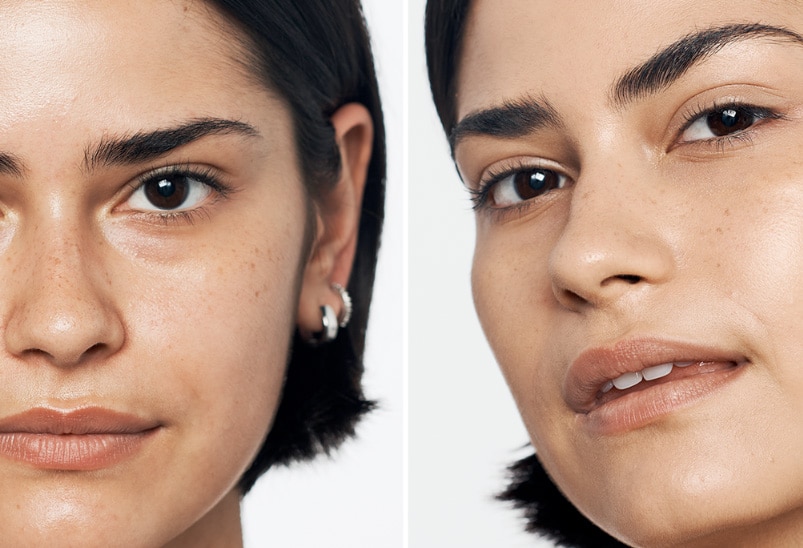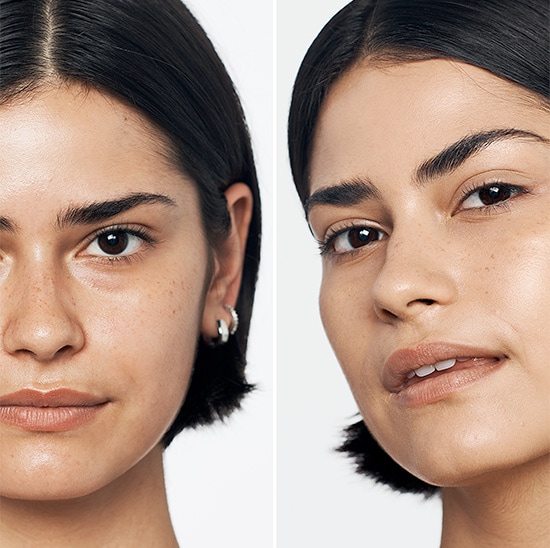 5 Skin-Loving Ingredients to Look For in Foundation
Finding the best foundation for your skin is about more than selecting the right tone and finish. In fact, having a look at the product's label to analyse its ingredients can make or break your decision.


If you're wondering how to choose the right foundation, keep reading as we go through five skin-loving ingredients to keep an eye on (plus, our top 3 skincare-infused foundations)!


Vitamin C
Perfect for: Dull skin


Vitamin C is a powerful antioxidant and when it comes to skincare, that means it helps protect the dermis from aggressors that lead to signs of aging, as well as brighten the skin to reveal its natural glow.


If you struggle with dull skin, you will enjoy the benefits of vitamin C, as it effectively fights fatigue and uneven skin tone. Wearing a foundation with vitamin C will not only instantly disguise any pigmentation issues, but treat them from within for long term results.


Hyaluronic Acid

Perfect for: Dry Skin


There are countless benefits of hyaluronic acid for skin. Also known as Sodium Hyaluronate, this ever-so-popular ingredient is typically used to combat dehydration, dullness and signs of aging.


Hyaluronic acid is a potent humectant, meaning it floods your skin with moisture and helps retain it, while also strengthening your natural moisture barrier. The result is a plump and dewy complexion, that feels as healthy as it looks.


This ingredient is suitable for all skin types. However, if you're looking for the best foundation for dry skin, hyaluronic acid is definitely a must-have as it will help soothe roughness, flakiness and irritation.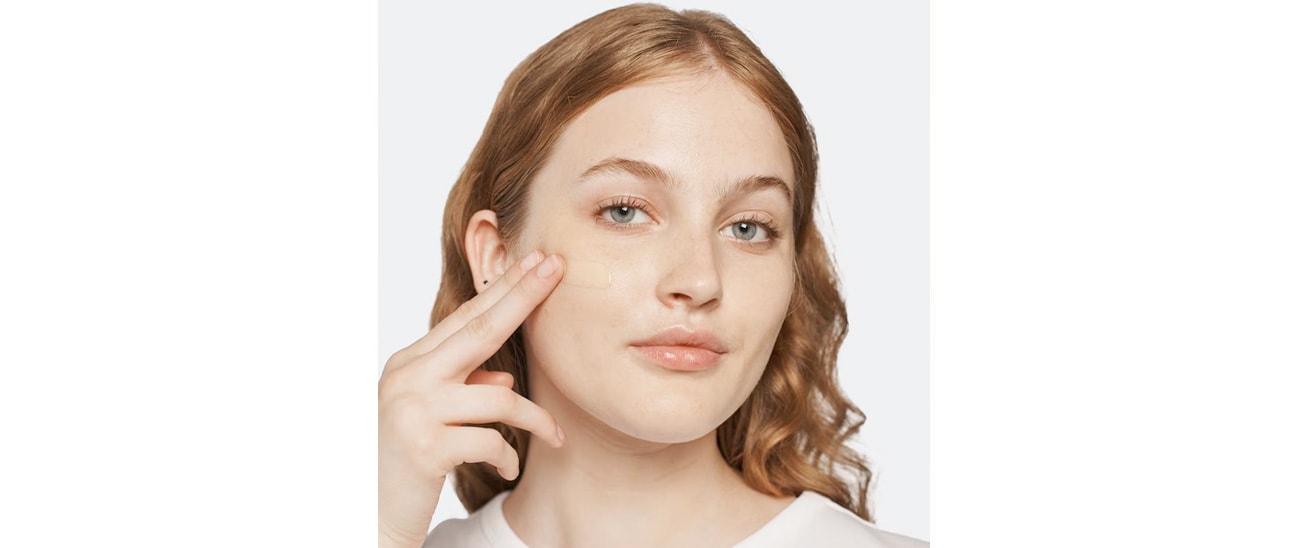 Salicylic acid
Perfect for: Blemish-prone skin


If your skin is prone to inflammation and blemishes, chances are that you look for skincare products that help soothe and prevent irritation - and the same should apply to all your makeup products.
Salicylic acid helps unclog your pores, keeping your dermis clean and preventing unwelcome blemishes and blackheads from occurring. It's also a great ingredient to keep an eye on if you're searching for the best foundation for oily skin, as it regulates sebum production and build-up.
SPF
Perfect for: All skin types


Regardless of your skin type and concerns, applying SPF on a daily basis is a must-do. Opting for an SPF foundation is a great way of protecting your skin from UV rays, especially on those cloudy or rainy days, when you forget to put on your regular sunscreen.
Plus, wearing a hydrating foundation with SPF also helps nourish your skin and prevent signs of damage from appearing, including fine lines, discolouration and wrinkles. We recommend that you go for an SPF of at least 15 and, on particularly sunny days, top it off with a stronger sunblock.
Aloe Vera
Perfect for: Sensitive skin


If you're looking for a moisturising foundation that will glide smoothly on your skin while keeping it youthful-looking, blemish-free and refreshed, aloe vera is the skincare ingredient for you.
Wearing an aloe-based foundation keeps your skin looking gorgeous on the outside while improving its condition from the inside. Among the numerous benefits of aloe vera for skin, its ability to fight aging signs, minimise blemishes and inflammation, and speed up wound healing stands out, particularly for those looking for a foundation for sensitive skin.
3 skincare-infused foundations to try
At Clinique, we create skincare and makeup products that not only make your skin look good, but also care for it from within, and our range of foundations is no exception. Whether you're searching for a foundation for redness, an SPF foundation or even a tinted moisturiser, we've got something for everyone. Here are three you might like:
Even Better Clinical™ Serum Foundation SPF 20


Developed with a breakthrough combination of serum technologies, this liquid foundation is supercharged with four key ingredients: hyaluronic acid to plump up the skin with hydration, salicylic acid to retexturise the skin, vitamin C to brighten the complexion and UP302 to minimise dark spots.
The result? On the outside, this SPF foundation provides 24 hours of weightless medium to full coverage in a flawless matte finish. On the inside, nourished skin that radiates with or without makeup.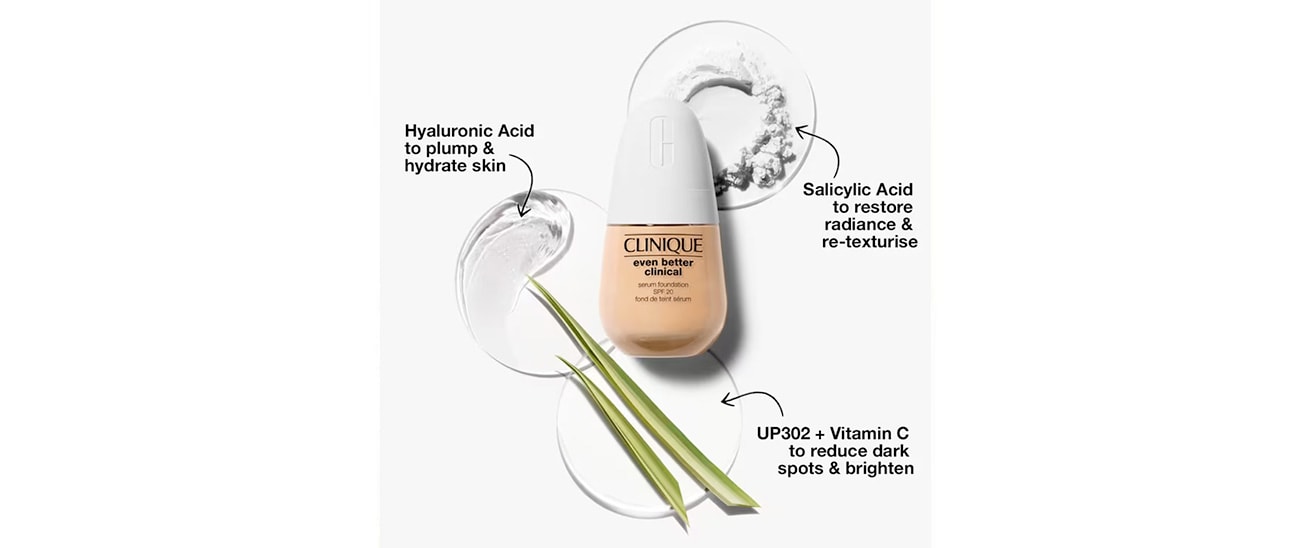 Anti-Blemish Solutions Liquid Makeup

Supercharged with salicylic acid, this oil-free foundation is ideal for those with combination-oily, combination-dry or oily skin that is prone to blemishes. Providing a natural matte finish and moderate coverage, it disguises bumps and blemishes, and blends away any redness.
Additionally, the laminaria saccharina extract, otherwise known as brown algae, helps create a protective layer on the skin that keeps external aggressors from damaging it, while also calming congested skin and boosting its elasticity.
Moisture Surge™ Sheertint Hydrator SPF 25


If you're looking for something a bit lighter on your skin than your usual foundation, our Moisture Surge™ Sheertint Hydrator SPF 25 might just be what you need.
Suitable for most skin types, this tinted moisturiser is formulated with hyaluronic acid and activated aloe vera for maximum hydration that lasts up to 12 hours, as well as antioxidants for protection against UV, pollution and other environmental aggressors. Plus, it features our innovative Mimetic-ShadeTM Technology, which allows this tinted hydrator to blend flawlessly with a wide range of skin tones.
Need some extra help choosing your new foundation? Use our Shade Match Science™ tool to find your most flattering Even Better™ foundation shade, along with lip colours to perfectly complement it!