Vitamin C is a powerful ingredient. It's no secret that if your diet includes plenty of foods rich in this essential nutrient, you'll enjoy better overall health and wellbeing.
But did you know Vitamin C can also boost the health of your skin? In recent years, more people have been discovering the incredible benefits of Vitamin C for skin. Recommended by leading dermatologists, Vitamin C skincare is the secret weapon of those who want to keep their skin looking youthful and radiant.
5 Benefits of Vitamin C for Skin
1. Protects against ageing signs
The telltale signs of aging – lines, dullness, discolouration and loss of elasticity – are the result of damaged skin cells, which is why it's so important to prevent cell damage.
Vitamin C is a potent antioxidant, which means that it actively assists with healing and regeneration, promoting skin cell renewal and neutralising the damaging effects of free radicals (such as UV exposure and pollution).
Another remarkable benefit of Vitamin C is that when applied regularly, it assists with your body's natural production of collagen, which naturally slows down as we age, leading to roughness and sagging.
2. Helps to brighten dark patches
Hyperpigmentation happens when too much melanin is produced by the body, leading to the development of darker skin patches, often around the eyes and face. While not harmful, it can be unsightly and distracting.
Vitamin C has is effective in treating hyperpigmentation, by inhibiting tyrosinase: an enzyme that controls the production of melanin. This wonder nutrient is also great for treating dark circles around the eye area. If you've been wondering how to brighten skin in a gentle, easy way, Vitamin C is a great option.
3. Minimises redness
Redness affects many people, especially those with skin sensitivities or allergies. In some cases, it occurs when the capillaries have been damaged, either through environmental damage (such as extremely cold weather) or lifestyle factors (such as excessive alcohol consumption). This issue is not only uncomfortable, it can really spoil your day on those occasions when you need to look your best.
If you suffer from redness and irritation, Vitamin C can help your skin repair and recover. Just as edible Vitamin C supplements support your body's immune system, topical Vitamin C treatments can help your skin to mend damaged capillaries and protect against future damage.
4. Keeps your skin hydrated
Did you know that 64% of your skin is water? The high water content is what keeps skin supple, which is why it's so important to make sure your skin stays hydrated.
We all know of the benefits of moisturiser, but Vitamin C can also be used to prevent moisture loss. One of the benefits of Vitamin C for skin is that it decreases water loss through the epidermis, helping to relieve dryness. It's basically like treating your skin to a delicious and refreshing drink!
5. Assists with healing
There are many ways that skin can become damaged. Prolonged sun exposure can cause burning and discolouration. If you work in an air-conditioned office, the dry air can rob your skin of moisture, which can eventually lead to premature aging. And as anyone who has struggled with blemishes knows, these can cause inflammation and scarring.
Of all the benefits of Vitamin C serums, its healing power is the most remarkable. It supports the structural framework of your skin, increasing the number of connective tissue cells essential for healing. If your skin is prone to flakiness, dark patches, roughness or rosacea, Vitamin C can help to soothe and restore.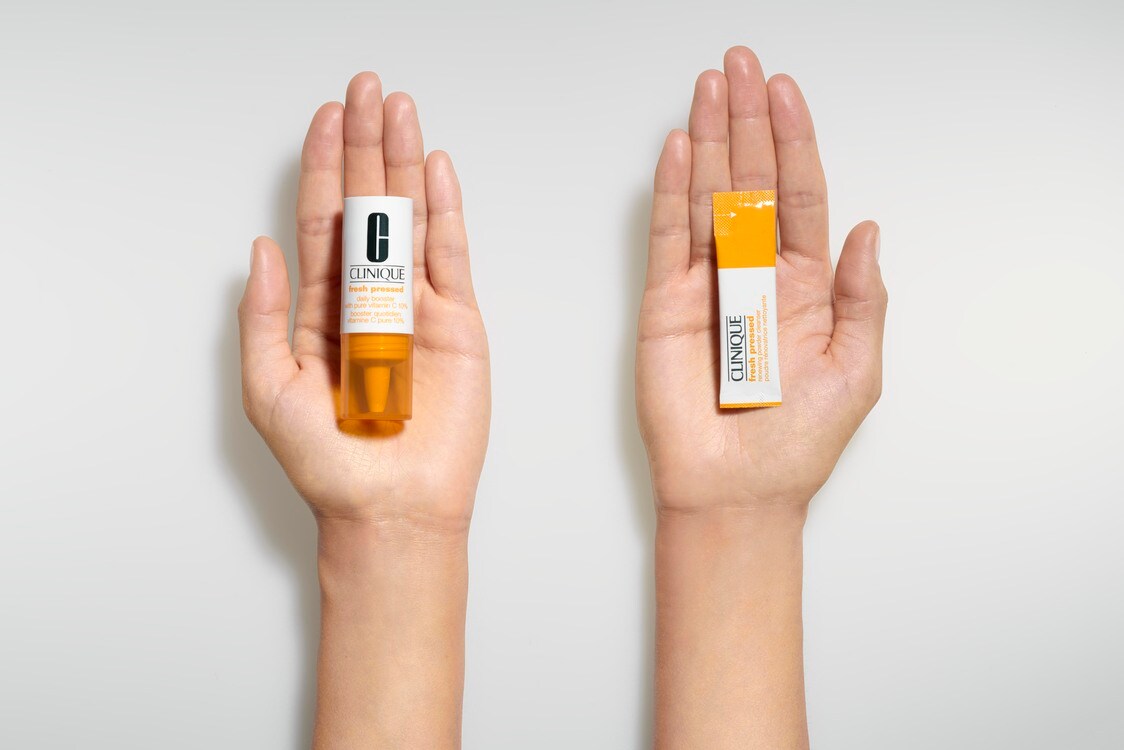 What are the best Vitamin C products for the skin?
If you're looking to recapture younger-looking skin, we recommend our Fresh Pressed 7-Day System, a two-step system that renews your complexion in just one week. Simply use the Vitamin C cleanser and the boosters every morning to jump-start your skin's natural cellular renewal process and see results from day one.
Prolong the benefits of this skin treatment by keeping it as a part of your morning skincare regimen, even after the initial seven days.
Our Fresh Pressed™ Renewing Powder Cleanser contains pure Vitamin C to awaken and retexture your skin. Non-drying and non-stripping, this water-activated Vitamin C cleanser is suitable for all skin types and gentle enough for everyday use, to prep your skin for the Fresh Pressed™ Daily Booster.
Infused with 10% pure Vitamin C, this booster works like a Vitamin C serum and is a great all-around solution for redness, ageing and hyperpigmentation. All you need to do is add a few drops to your daily moisturiser to enjoy all the benefits of this powerful antioxidant.
How to use Vitamin C serum
Pure Vitamin C serums become less effective when exposed to oxygen – they're most powerful when fresh. For this reason, all of our Vitamin C skincare products use stay-fresh packaging to isolate the pure Vitamin C until it's time to use. This gives you the maximum benefits of Vitamin C.
For best results, keep your stay-fresh packages sealed until you're ready to apply your Vitamin C for skin. Then it's as easy as applying to the face, eyes and neck. With regular use, you'll enjoy skin that glows from within with health and vitality.
Looking for more tips? Our guide 1-Minute Hack for Brighter-Looking Skin explains how to get the benefits of Vitamin C in just 1 minute. It's like a mini facial that you can enjoy at home, for an effortlessly luminous look.