Instagram Favourites
Share your favourite Clinique products and looks with us. Tag @Clinique_Oz using #PinkOasis #MoistureSurge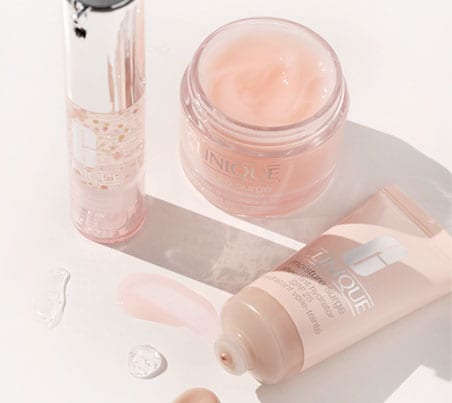 The pink marvels: Moisture Surge™

We know that hydration is essential for healthy skin. Regular moisturisation is a vital step for anyone who wants to ensure that their skin stays nourished, protected and strong. But at Clinique, we understand that even the most diligent skincare routines can sometimes leave your skin wanting more.

That's why we developed the Moisture Surge™ product range. Every day, we encounter environments and stressors that can leave our skin dry, sensitive or dull. Whether it's a dry climate, air conditioning, sun exposure, air travel, indoor heating, or any combination of the above, Clinique's Moisture Surge products can provide the rapid replenishment your skin needs to stay smooth, soft and radiant.

Kick-start your replenishing routine with a moisture-boosting upgrade of the CC cream. The Moisture Surge Sheertint Hydrator SPF 25 combines antioxidants, SPF and powerful hydrating ingredients to protect and moisturise your skin every day. For an overnight hydration boost, we love the silky smooth results we get from the Moisture Surge Overnight Mask. Simply apply to your face and neck in the evenings to start each day with dewy, glowing skin.

If you're looking for long-lasting moisture, the Moisture Surge 72-Hour Auto-Replenishing Hydrator offers 72 hours of non-stop hydration. Applied under or over makeup, or as a 5-minute mask, this unique moisturiser stimulates your skin's own hydration system to rehydrate your skin continuously, even after you wash your face. With moisture-barrier builders and two types of hyaluronic acid hydrating from the outside and deep within your skin cells, our new formula keeps skin almost twice as hydrated at the end of the day than it did before.

If you have dry or sensitive skin, you can't look past the Moisture Surge Intense Skin Fortifying Hydrator. This rich, oil-free moisturiser instantly penetrates the skin to leave it feeling supple and nourished. Effective as both an all-day moisturiser and an excellent primer, this is one of our favourite Moisture Surge products. For a quick moisture boost, treat your skin to an intensive hydration session with our Moisture Surge Hydrating Supercharged Concentrate. This ultralight water-gel is absorbed instantly and keeps skin soft, hydrated and plump for a full 72 hours. 

No matter how busy life gets, your skin always deserves the best care and treatment. The skin products we use determine the texture, tone and overall health of our skin, which is why all Clinique formulations are made without parabens, phthalates or fragrances. Oil-free and dermatologically tested, try the Moisture Surge range for yourself and unlock your most radiant skin today.