Father's Day is almost here and for many, the search for the perfect present has begun. You want to show your dad that you care and spoil him with the best Father's Day gift - but making the final decision isn't always easy.
Well, why not surprise him with a skincare gift he'll want to use every single day?
From aftershave lotions to moisturisers and more, our collection of skincare products for men has something for everyone. Here are our top picks for grooming gift ideas your dad will love:
1. A shaving gel: Aloe Shave Gel
One of the most popular products in our Clinique for Men™ range, the Aloe Shave Gel is a shaving gel that softens and cushions the face and beard for a smooth, close shave.
Suitable for all skin types, this shaving gel for men is rich in aloe vera, an ingredient known for its calming properties – and that's what makes this an excellent gift idea for Father's Day.
After using this shaving gel, your dad will experience the benefits of aloe vera for skin, which are particularly relevant when we're talking about shaving. Moisturising and nourishing, aloe vera and a cocktail of anti-irritating ingredients helps to calm redness and inflammation associated with shaving, guaranteeing a discomfort-free shave every time.
Not sure your dad will like the gel consistency of this product? Check out our shaving cream instead.
2. A gentle exfoliator: Face Scrub
Exfoliating is an essential step in any men's skincare regimen. Whether your dad is completely new to the world of face scrubs or follows his exfoliating routine to a T, this is a grooming gift he'll thank you for.
Exfoliators eliminate dead skin cells from the skin's surface and help control the build-up of sebum on the face, making them the ideal cleanser for men when their skin needs a deeper clean.
Shaving also becomes a lot easier after exfoliating. Ideal for daily use, our gentle Face Scrub for men is formulated with salicylic acid and rounded non-abrasive grains that de-flake and lift beard hairs, clearing the way for closer shaves and preventing ingrown hairs.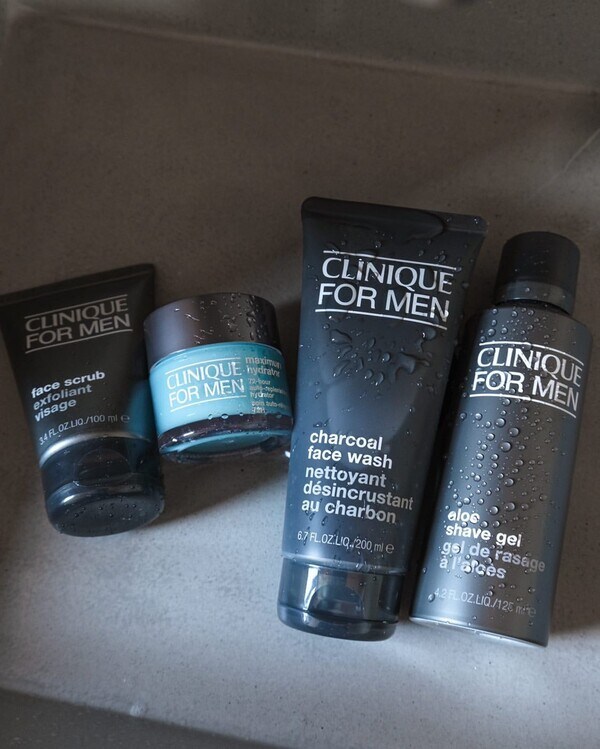 3. An aftershave lotion: Post-Shave Soother
As the name suggests, aftershave is a skincare product that is applied after shaving, to cleanse the face and prevent any irritation from occurring. However, your Dad will only experience these benefits if he uses a high-quality product.
Our number one advice when it comes to choosing the best aftershave is to opt for skin-loving ingredients and avoid fragrances and alcohol-based formulas.
One of the best ingredients to look for in an aftershave lotion is aloe vera, which our Post-Shave Soother is rich in. This best-seller helps soothe razor burns and dryness, while instantly comforting just-shaven skin, leaving a pleasant, cooling tingle on the face.
When partnered with other products in our Clinique for Men™ range, the Post-Shave Soother becomes even more powerful, so why not surprise your dad with the perfect skincare gift set for men?
4. A refreshing moisturiser: Maximum Hydrator 72-Hour Auto-Replenishing Hydrator
Shaving can dry out the skin and although applying aftershave helps rehydrate it, it's still a good idea to follow up with a radiance-enhancing moisturiser.
And of course, even on non-shaving days, moisturising is a skincare habit no men should skip. From preventing fine lines and wrinkles to minimising blemishes, protecting the skin from external factors and more - the benefits of daily moisturising for men are endless.
Our Maximum Hydrator 72-Hour Auto-Replenishing Hydrator works for all skin types and can be used in the morning, evening or whenever the skin needs a moisture boost.
Lightweight and oil-free, our moisturiser for men provides intense hydration that lasts for 72 hours, all thanks to its super potent ingredients. The Auto-Replenishing Technology with caffeine helps trigger the skin's own rehydration system, while the hyaluronic acid fragments and activated aloe water infuse the skin with moisture. When combined, these humectants and polymers help to efficiently reduce water loss and seal in moisture.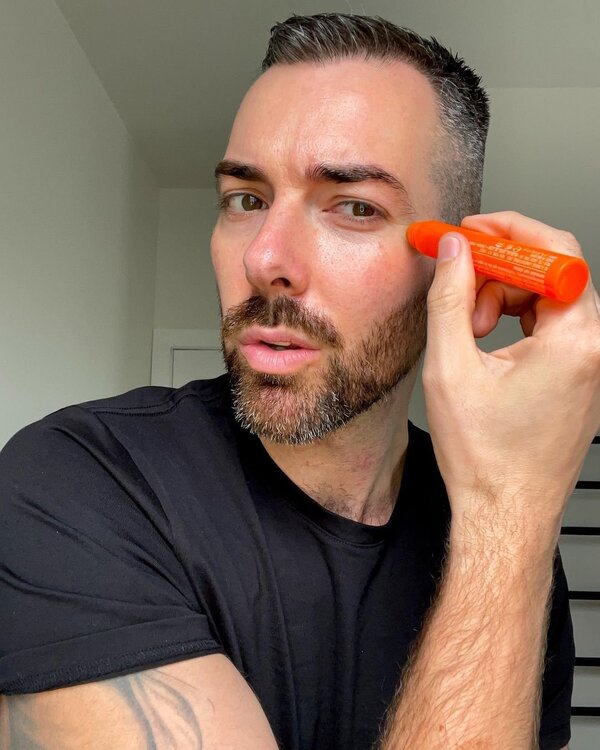 An eye treatment: Super Energizer Anti-Fatigue Depuffing Eye Gel
Finally, for the busy dad who always complains about his dark circles, what better Father's Day gift than an eye cream for men?
The skin around the eyes is particularly fragile and any signs of tiredness (as well as ageing) tend to show first in this area, so giving it some extra love and attention is crucial to keeping the skin plump and youthful-looking.
Our Super Energizer™ Anti-Fatigue Depuffing Eye Gel is a face treatment for men formulated with caffeine, that specifically targets the eye area to instantly re-energise and brighten tired-looking eyes. Supercharged with hyaluronic acid, this cooling roll-on gel also improves the skin barrier around the eyes and soothes upset skin.
Want to check other skincare products for men before you decide which one to spoil your dad with on Father's Day? Explore our full Clinique for Men™ collection, featuring moisturisers, face wash for men, shaving cream and more.
If you simply can't choose the right gift idea for your dad, we can help: until September 5th, we're giving a free 3-piece Father's Day Intense Hydration Set* with any $60+ orders, including a full-size Clinique For Men Charcoal Face Wash, Clinique For Men Face Scrub 15ml and Clinique for Men Maximum Hydrator Eye Hydro-Filler Concentrate 7ml. That's dad's gift done (and your skincare collection upgraded)!
Photos: @nolanlan and @rossandrewartha